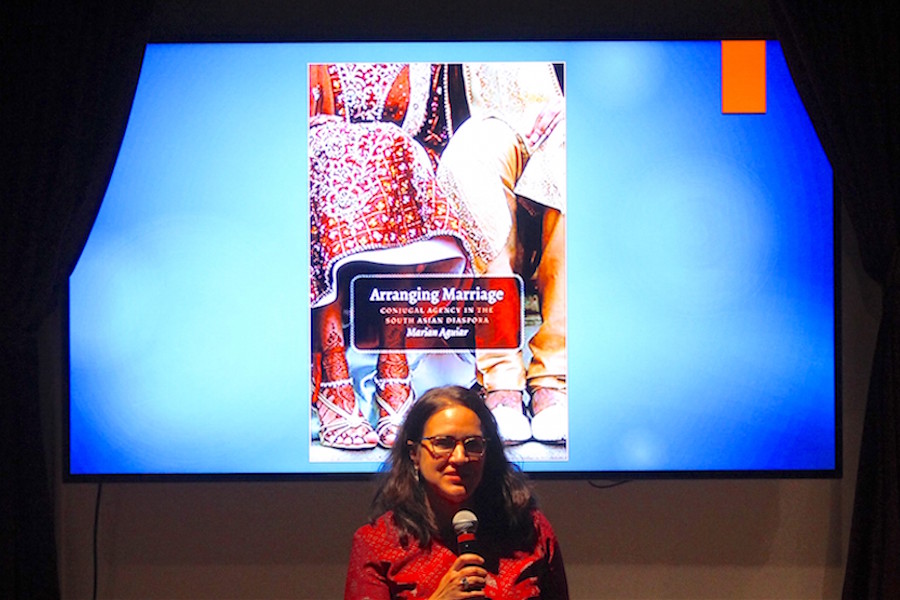 November 22, 2019
City of Asylum Presents Marian Aguiar, Associate Professor of Literary & Cultural Studies, for First CMU English "Outside the Academy" Event
By Angela Januzzi ajanuzzi(through)andrew.cmu.edu
The Pittsburgh organization City of Asylum is well-known for its flourishing arts-based community development model. Founded in 2004 on the Northside, the non-profit brings together writers, readers and neighbors through global literature and cultural exchange. In addition to many other programs, City of Asylum features several dozen author events a year. The "Outside the Academy Lecture Series," which specifically hosts academic experts' free readings and discussions, seemed a natural partnership for the Department of English at Carnegie Mellon University.
Marian Aguiar, associate professor of Literary & Cultural Studies at CMU English, was recently the first department faculty member to present in the series. On Tuesday, Nov. 12 Aguiar gave a nuanced presentation and discussion of her research, on topics from her recent book "Arranging Marriage: Conjugal Agency in the South Asian Diaspora" (2018; University of Minnesota Press). Aguiar's work provides the first sustained analysis of arranged marriage as a transnational cultural phenomenon, revealing how its meaning has been continuously reinvented within the South Asian diaspora of Britain, the United States, and Canada. The presentation reviewed how narratives about arranged marriage bear upon questions of consent, agency, state power, and national belonging.
 "This series offers a wonderful opportunity to talk about larger social questions at a venue that brings together different kinds of intellectually curious people," said Aguiar. "In my case, I wanted to use my scholarship to encourage people think about how marriage is not just a personal choice, but a social, political and economic institution. I also wanted to show how examining kinds of marriage can reveal how and why people make decisions in terms of duty, identity, or community, as well as in terms of personal fulfillment."
That same Tuesday also marked Pittsburgh's first snow squalls of the year. Despite the weather, City of Asylum hosted a packed house at its Alphabet City venue for Aguiar's talk. Aguiar, who published "Tracking Modernity: India's Railway and the Culture of Mobility" in 2011 and the co-edited the collection "Mobilities, Literature, Culture" this fall, has been busy co-editing a series for Palgrave Macmillan Press on the relationship between culture and movement. 
Looking ahead to other projects in this area, Aguiar is writing a book about representations of refugee journeys: "The book on arranged marriage showed me how people are moving around the globe in ways not always visible. My new book on refugee mobilities exposes how these representations of movements sometimes rewrite widely-circulated images of border crossing. It was an honor to speak at a place that has done so much to enable writers to author these new visions." 
More on City of Asylum's "Outside the Academy Lecture Series," and its other events and programs, is on its Alphabet City website here.