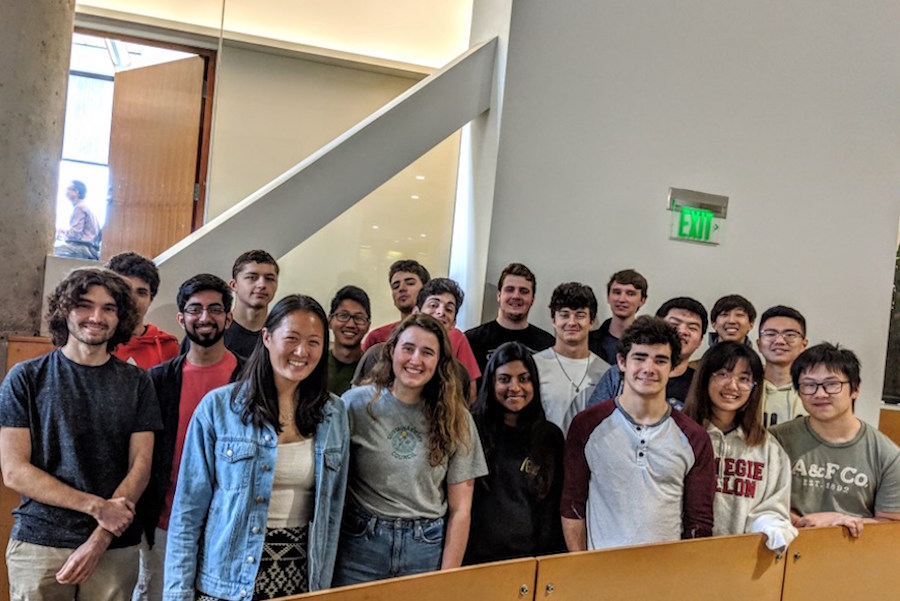 December 02, 2019
Kathy M. Newman, Literary & Cultural Studies Associate Professor, Holds Class Launch of "Apocalypse Now 101" Website and Film Screening
By Angela Januzzi ajanuzzi(through)andrew.cmu.edu
Last month a crowd of students, faculty and film buffs gathered in the Tepper Quad for a unique literary celebration at Carnegie Mellon University. They were there to see the 40th anniversary cut of Apocalypse Now — a new version of the film that was released in August and debuted here at CMU for the first time in Pittsburgh. At the screening CMU English professor Kathy M. Newman, along with the students from Newman's Spring 2019 Freshman English, launched their course's website, which they collectively created throughout spring: apocalypsenow101.com.
The students in Professor Newman's course wrote more than 1,300 pages of prose in order to create the website, which contains 19 short, original essays on Apocalypse Now. The class critically analyzed the movie alongside the 1899 novella which inspired it, "Heart of Darkness" by Joseph Conrad.  Blending the methods of close reading, film theory and cultural analysis, the student-created website can be used as a resource for fans and scholars alike. Newman is excited to share the students' work with the wider community.
"This was an experimental class. I was inspired by a friend of mine to have the students create short, accessible essays on a single film," said Newman.
"I hoped that if the students were writing for a wider audience that the might find more meaning in the work of critical writing and analysis. And it worked! The students were so self-directed, motivated and engaged throughout the course. They built the website themselves. Also, they wrote some truly brilliant takes on Apocalypse Now. During the November screening I watched the film with new eyes, inspired by what the students in this class have taught me about different aspects of the film."
At the screening Newman also took some questions about the English Department's new major in Film & Visual Media.