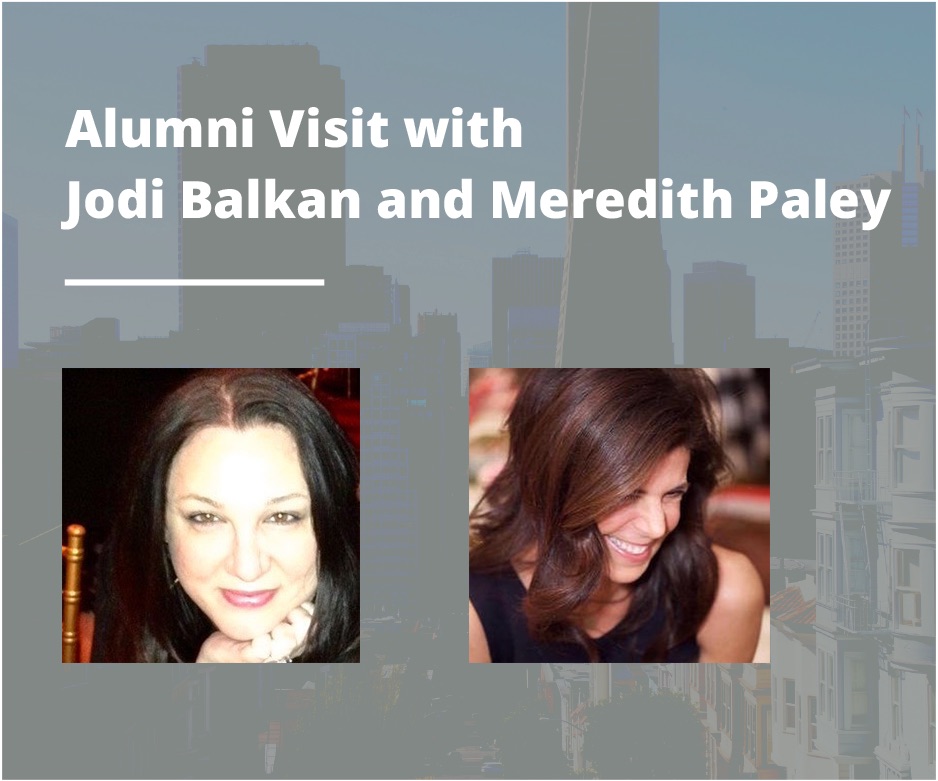 April 16, 2019
English Alumnae Jodi Balkan and Meredith Paley Return to Campus for "Real Talk" on Professional Writing and PR
By Angela Januzzi ajanuzzi(through)andrew.cmu.edu
On April 5, two Carnegie Mellon University Department of English alumnae, Jodi Balkan (1989) and Meredith Paley (Wollins) (1989) returned to campus to give a craft talk and Q&A session about their professional writing and public relations career trajectories — starting with how they built those careers from the ground up.
Balkan is President and Founder of BOLD PR, repeatedly named among the best public relations agencies in the beauty and fashion industry. Paley is VP of Public Relations for the national clothing and fashion retailer Talbots. The two alumni were close friends while students at CMU, and their personal and professional support of each other only grew stronger while creating careers in New York City. Between cracking jokes the way only close friends can, they both reiterated there is no simple, quick route to creating a non-traditional career.
Balkan told the group she eventually realized she could combine her love of the beauty industry and editorial work with the fast-paced world of PR. She honed her career at a public relations agency before going in-house to head up PR at L'Oreal Paris. In 2008, Balkan founded BOLD PR. Now, 11 years later, BOLD PR's clients currently include brands such as Fenty Beauty by Rihanna, Revlon, Marc Jacobs Beauty, Cartier and Giorgio Armani Beauty.
Paley shared her career path began with nearly losing a temp job at MTV because her typing speed was not fast enough. She did get hired at MTV and, eventually (with Balkan's help), took her public relations and brand strategy experience into the fashion industry, too. Ultimately, Paley landed at Nicole Miller as the VP of Public Relations where she set up the PR department so successfully that she was hired four years later by designer Kenneth Cole to do the same. She is currently VP of PR for clothing retailer Talbots, where she helped drive a rebranding campaign that led to Talbots dressing First Lady Michelle Obama over two dozen times.
Among their examples of the perseverance required to build a profession with no clear blueprint (particularly in writing and corporate/ brand messaging), Paley offered a particularly moving story. In the early 1990's, Paley's mother attended a taping of an episode of "The Oprah Winfrey Show" in Chicago. Paley had applied over 13 times, with no luck, and so her mother wrote on the back of a voided check "Hire My Daughter," passed-in to the producers when they asked for show ideas from the audience. Though Paley was not hired then, over two decades later her dedication to her work led her to a special invitation — as an executive of Talbots and a client of O, The Oprah Magazine, she found herself at a private dinner on a cruise with none other than Oprah. That night Paley, of course, made sure to tell the dinner party the story of her mother, the voided check, and how her belief and dedication to her work still brought her to that exact "pinch-me" moment.
Balkan and Paley then ended their talk with a Q&A with students. They answered questions about the purpose of PR, different forms of messaging and marketing, and even offered advice for specific sectors of work students may want to consider moving forward. The alumni reminded students to stay motivated in the face of the unknown and to "soak up" as much as possible from all work experiences — and that every part of each journey holds invaluable skills and connections, no matter the shape each career path may take.