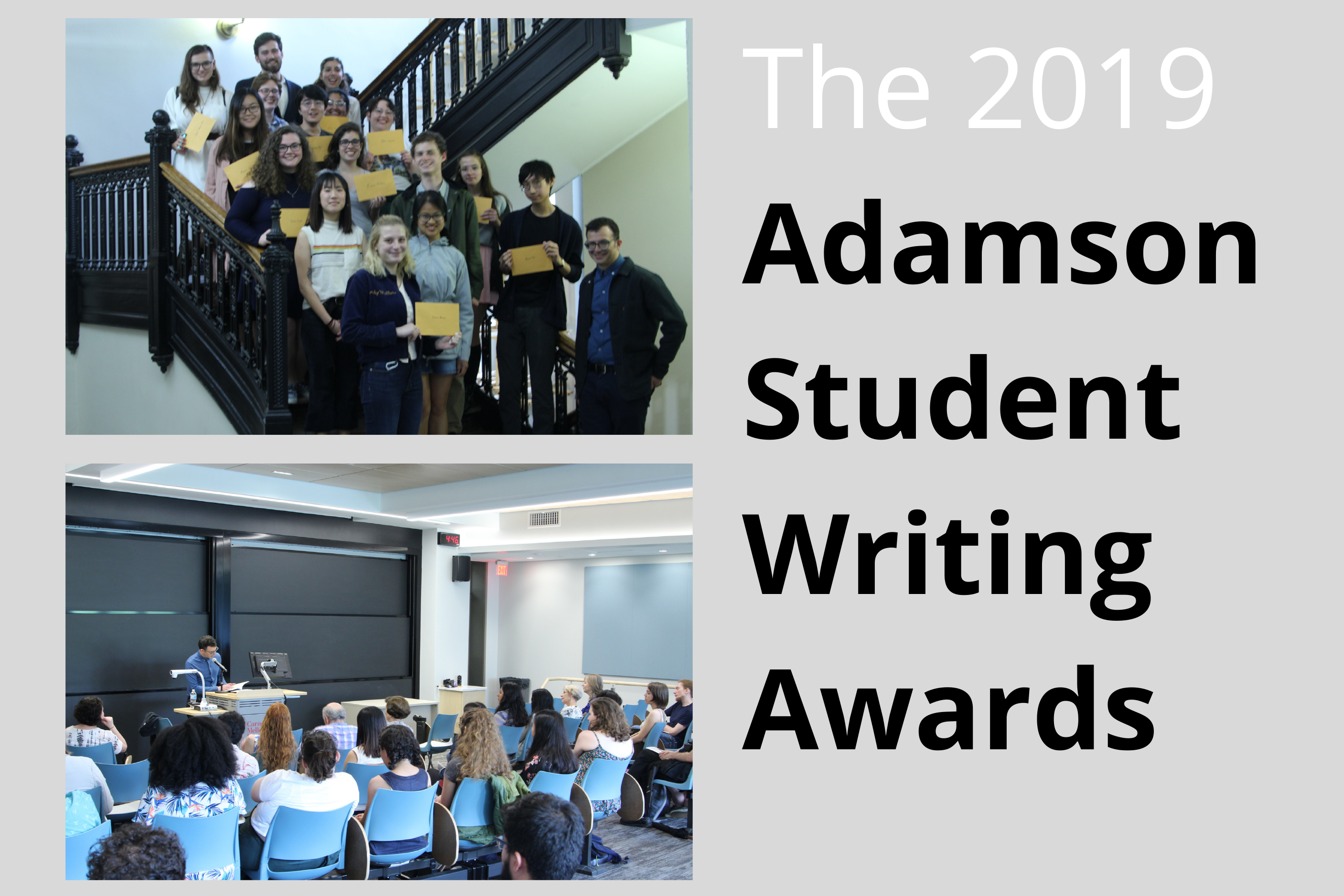 May 30, 2019
Creative Writing Students Honored at Annual Adamson Awards
By Angela Januzzi ajanuzzi(through)andrew.cmu.edu
As one of the only undergraduate programs of its kind, Carnegie Mellon University's Creative Writing Program in the Department of English highlights excellence in student writing annually through the Adamson Student Writing Awards, held this year on May 3, 2019.
Not only is the event a chance for students to recognize and congratulate their classmates on their creative work, but each year students' pieces are judged by a set of influential, professional writers. To also add to the sense of celebration, a prominent writer is invited to be the special guest speaker at the annual Awards: This year's 2019 Awards ceremony featured Daniel Borzutzky, 2016 National Book Award-winner, poet, writer and translator.
The event was chaired by Creative Writing assistant professor Lauren Shapiro, with support from fellow Creative Writing program faculty Jane McCafferty and Jane Bernstein.
Student winner Hyunho Yoon, awarded the Edythe and Leon Nagin Award for Best Senior Honors Thesis for his novel "The Apologist S," said receiving the award felt like a reflection of the "nurturing community" of the Creative Writing Program in the Department of English. "When my name was announced for best thesis, as grateful as I was for the award itself, I was even more grateful for the people who enabled me to write my thesis," said Yoon. "It was gratifying to feel that we had been able to make something worthwhile, together…"
Julia Hou was the first place winner in Poetry this year, who also noted how the Adamson Awards represented this same sense of community to her. "For me, the best part of the awards was the fact that the entire creative writing department was there to celebrate," said Hou. "Writing has always been a personal, private activity for me, and it's only after coming to CMU that I made a conscious effort to improve my writing and share it with the world. I'm so happy with how far I've come and the people I've met along the way."
Borzutzky read from his work before he helped distribute this year's awards to students. To prepare for his visit, students in Professor Shapiro's classes read his latest translation, Galo Ghilgiotto's Valdivia, and his latest book of poetry, "Lake Michigan." Borzutzky had also Skyped-in earlier to answer student questions leading-up to the event.
Sponsored by the Department of English, the Adamson Student Writing Awards have been presented since 1982 in honor of Pauline B. Adamson at the bequest of her husband, the late Clarence H. Adamson, as a testimonial to their marriage and her interest in the English Language and American Literature.
The 2019 Adamson Student Writing Award Winners -
Poetry
Julia Hou, 1st Place
Academy of American Poets Prize:
Julie Heming, 1st Place
Joss Green, 2nd Place
Naviya Singla, 3rd Place
Carnegie Mellon University Press Prize:
Michelle Wiedmann, 1st Place
Theresa Seguritan Abalos, Honorable Mention
Nonfiction
Juliana Schnerr, 1st Place
Sabrina Browne, 2nd Place
Jacob Paul, 3rd Place
Fiction
Marika Yang, 1st Place
Owen Fox, 2nd Place
Carley Johnson, 3rd Place
Mel Kerber, Honorable Mention
Eleanor Lovelock, Honorable Mention
John Sprong, Honorable Mention
Screenwriting
Jenny Bornemann, 1st Place
Juliana Schnerr, 2nd Place
Sydney Roslin, 3rd Place
Rebecca Enright, Honorable Mention
Jillian Coscio, Honorable Mention
Edythe and Leon Nagin Award for Best Senior Honors Thesis:
Hyunho Yoon
Donna Grear Memorial Award:
Autumn Armega-Finger
Siegel Awards for Professional Writing
Aisha Rashid, 1st Place
Emma Flickinger, 2nd Place
Cristina Pullen, 3rd Place
----------
Pictured above, top: Several of this year's Adamson Student Writing Award winners; Bottom: Special guest speaker and 2016 National Book Award-Winner Daniel Borzutzky.