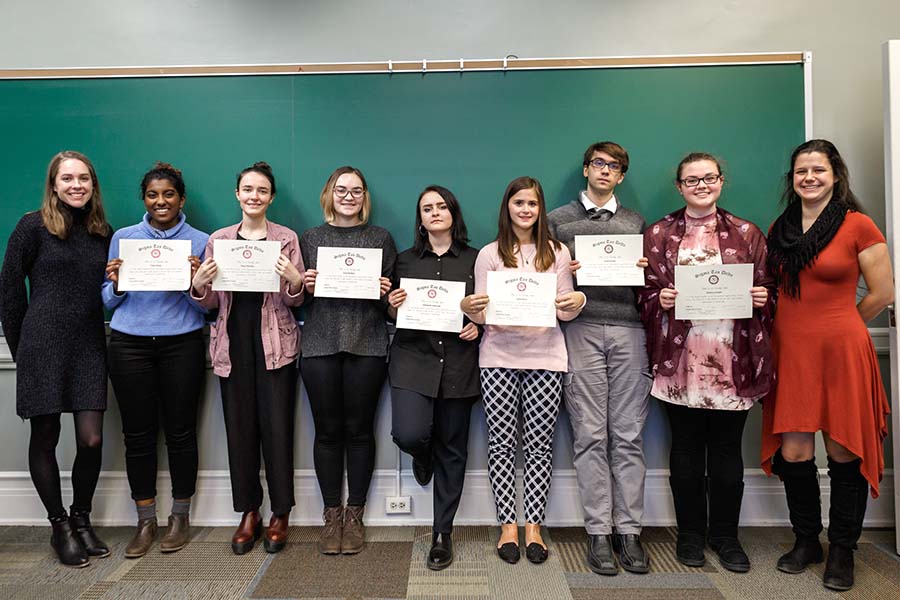 April 09, 2018
New Inductees Join Sigma Tau Delta Honor Society
By Daniel Hirsch djhirsch(through)andrew.cmu.edu
In an induction ceremony this month, 11 students from the Department of English joined the ranks of the Omega Tau Chapter of Sigma Tau Delta, the International English Honor Society.
Established in 1924, the Sigma Tau Delta Society honors academic excellence in English and is dedicated to fostering literacy in all aspects of the English discipline. Dozens of Department of English students have been inducted to the society since the CMU chapter's founding in 1986.
"Sigma Tau Delta gives us the opportunity as a department to recognize the hard work, dedication, and brilliance of our students," said James Wynn, associate professor of English and director of undergraduate studies, who presided over the ceremony. "More importantly, though, it's a way for us to build community."
In recent years, the CMU chapter of Sigma Tau Delta has hosted an annual fundraiser in which students sold personalized, original poems as Valentine's Day cards. Additionally, several of its CMU members have attended the annual Sigma Tau Delta conference.
"In Sigma Tau Delta, students from all English majors come together in a non-academic setting to explore their common interests and engage with the broader CMU community through service and scholarship," Wynn said. "As faculty liaison to our chapter, Omega Tau, it's been a real pleasure working with and getting to know students involved in the organization."
For senior Izzy McCarthy, being a member of Sigma Tau Delta was a vital part of her college experience. Following her induction to the honor society in 2016, McCarthy served as chapter president.
"Sigma Tau Delta has provided me and my fellow English students with a great opportunity to get to know each other better outside of classes," McCarthy said. "I'm excited to be inducting new members and hope that in the future the organization can continue to foster an even stronger sense of community within the English Department."
This year's inductees include majors in Creative Writing, Professional Writing, and English.
The 2018 Sigma Tau Delta Omega Tau Chapter Inductees:
Aleksandra Ambroziak
Alysa Bradbury 
Rebecca Enright
Emma Flickinger
Lauren Kelly
Tracy Le
Paige O'Riordan
Vidya Palepu
Jordan Romah
Naviya Singla
Samantha Smith