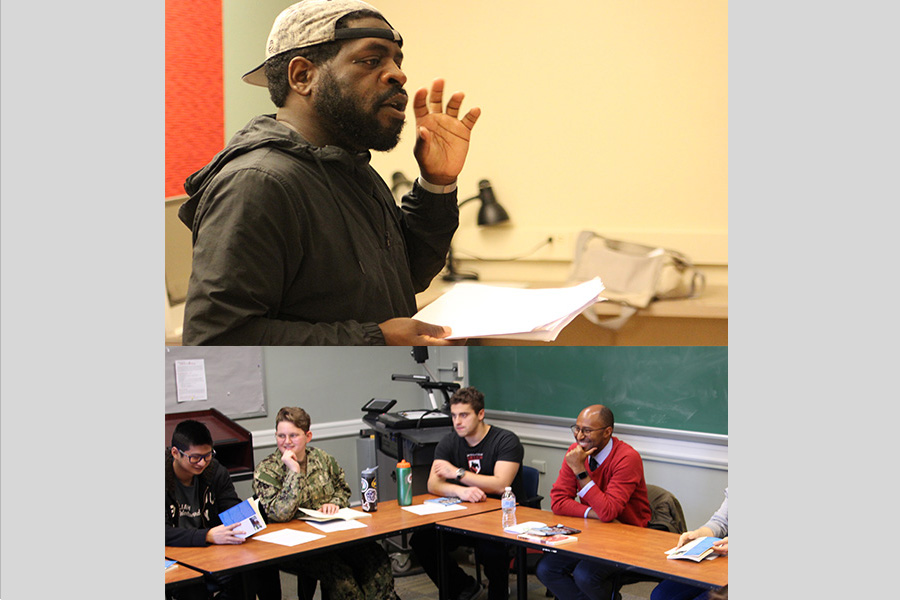 November 13, 2018
First Writers Visit in New Speaker Series from the Martin Luther King, Jr. Day Writing Awards
By Angela Januzzi ajanuzzi(through)andrew.cmu.edu
This past October, Carnegie Mellon University's Department of English helped host acclaimed writers Hanif Aburraqib and Cameron Barnett as the first guests in the new Speaker Series presented by the annual Martin Luther King, Jr. Day Writing Awards.
While supporting creative writing as a necessary lens on difficult issues of race and class, the new Speaker Series also aims to bring greater awareness to the Martin Luther King, Jr. Day Writing Awards contest. The Series is sponsored by the Department of English, the Dietrich College of Humanities and Social Sciences and the Center for Student Diversity and Inclusion. Now in the 20th year, the Writing Awards are open to all Western Pennsylvania high school and college students writing (poetry and prose) about individual experience of racial or cultural difference or offering personal reflections on Dr. King's legacy that rely on concrete detail. Submissions are due on Friday, November 23, 2018.
Barnett's visit occurred October 30, just a few days after the fatal attack at Tree of Life Synagogue in nearby Squirrel Hill. After Barnett read poems from his award-winning book The Drowning Boy's Guide to Water, Associate Director of the SCDI Shernell Smith thanked him in her closing remarks for his presence at CMU, especially as a local Pittsburgh poet and artist of color. Noting the week's shared themes -- of ongoing oppression and racism, as well as community and resilience -- Smith reminded the audience of the healing ability of poetry and in sharing one's stories during times of great social struggle.
"After twenty years, the awards continue to be vital to the national conversation about these issues—issues that so often divide us," said Professor Jim Daniels, Thomas Stockham Baker University Professor of English and the Awards' director. "We're looking for personal narratives that deal with diversity and inclusion in some way. We all have stories to tell, and the awards offer a safe space for students to express themselves about subjects that are often controversial and difficult to talk about."
Visiting in early and late October, respectively, Abdurraqib and Barnett spoke in Daniels' classes and gave public readings of their writing. Hanif Abdurraqib is a poet, essayist, and cultural critic from Columbus, Ohio, whose first book The Crown Ain't Worth Much was named a finalist for the Eric Hoffer Book Prize, and nominated for a Hurston-Wright Legacy Award. His first collection of essays, They Can't Kill Us Until They Kill Us arrived to great acclaim and multiple printings, and his next two books are scheduled for 2019 and 2020.
Cameron Barnett is a poet and teacher in Pittsburgh and the recipient of the O'Donnell Award for Excellence in Poetry. He holds an MFA from the University of Pittsburgh, where he was poetry editor for Hot Metal Bridge Literary Magazine. He teaches middle school language arts and social studies at Falk Laboratory School in Oakland, one of his own alma maters, and he serves as  a board member for The Bridge Series. His book The Drowning Boy's Guide to Water won the Autumn House Press 2017 Rising Writer Contest and was a finalist for the 49th NAACP Image Awards for Outstanding Literary Work in Poetry.
"We were very fortunate to have Hanif and Cameron kick off the first year of our speaker series," said Daniels. "Their powerful writing is extremely relevant to the mission of the awards, and the students responded with strong essays and poems of their own. The Speaker Series was created in hopes of extending the reach of the Awards throughout the year and inspiring more Carnegie Mellon students to write about these issues, and the visits by these two warm, engaging writers certainly did both of those things. We already have our speakers lined up for next fall."
To submit to the Martin Luther King, Jr. Day Writing Awards, or to encourage a Western Pennsylvania student to enter the contest, find more information here: https://www.cmu.edu/dietrich/english/mlk/
The Awards will be presented on Martin Luther King, Jr. Day, Monday, January 21, on the Carnegie Mellon campus.