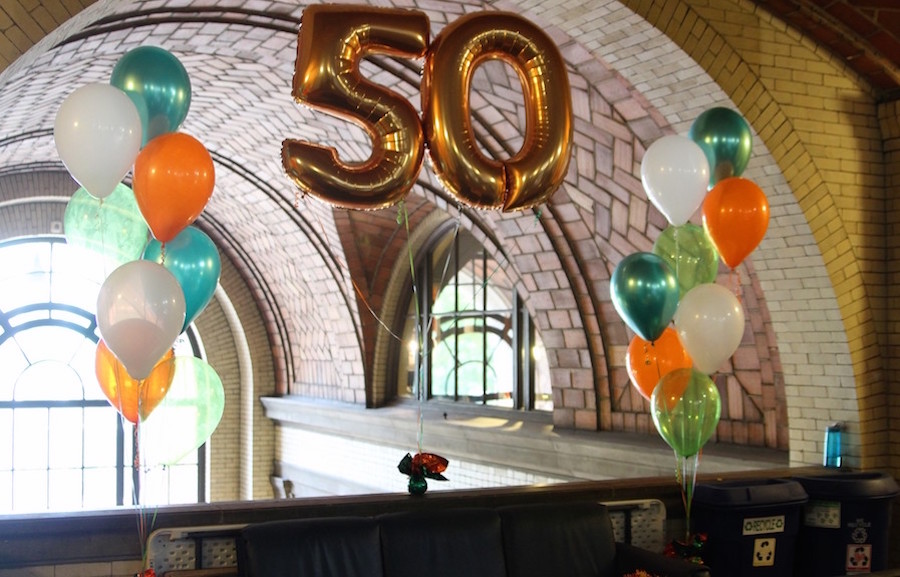 October 31, 2018
Creative Writing Program Celebrates 50th Anniversary
By Angela Januzzi ajanuzzi(through)andrew.cmu.edu
Over the days of Thursday, Oct. 25 through Saturday, Oct. 27, the Carnegie Mellon University campus prepared to celebrate several major milestones: From the CMU Homecoming and Inauguration of its 10th President, to the Department of English's 50th Anniversary of the Creative Writing Program.
As one of oldest the only undergraduate programs of its kind, the Creative Writing Program's alumni gathered at Baker Hall from around the country to share in the camaraderie, success and profound experiences the writing program has given them.
The 50th Anniversary events included panels and readings by the Creative Writing Program alumni, cocktails and refreshments and planned keynote addresses from alumni on Saturday.
On the last day of celebration on Saturday morning, news of the immense tragedy at nearby Tree of Life Synagogue reached program director Sharon Dilworth, associate professor of English. As CMU Homecoming events were cancelled, Professor Dilworth moved all Creative Writing plans to her personal home, including the keynote speeches.
"I knew the anniversary was going to be interesting," Dilworth said. "What I didn't know was how wonderful it was going to be – to see our former students return to campus, to hear their stories, to learn of their professional accomplishments, to see photographs of their families, and to hear how many of them remember so many things about their time spent in the creative writing program at Carnegie Mellon, was so rewarding. They remembered so much about their time here, it was gratifying to hear their memories and how certain moments here have continued to shape their lives."
Many of the visiting alumni spoke both personally and publicly during their speeches of the importance of community in their lives and having the vital support of Carnegie Mellon University. "It was comforting to be together on Saturday evening and to talk openly about the current situation, to acknowledge our fears and our collective despair," Dilworth said.
As Saturday's news of the tragedy in Squirrel Hill reached the campus, Javier Grillo-Marxuach, Creative Writing Program alumnus and television screenwriter and producer, was one of many alumni who highlighted the necessary work of creative writing and the humanities. In his keynote address Saturday, he pointed out the below:
"If you have a skill, teach it to someone for free...Anyone lucky, yes, luck enough to make a living as a writer has a list of people who recognized their talent, helped them hone their craft, gave them honest but compassionate feedback, introduced them to an agent, explained publishing to them, advised them how to deal with editors—or network and studio executives—and perhaps taught them how to handle both success and failure with grace."
Grillo-Marxuach went on to say, "And if you were to share your knowledge of how those pins and barrels were made to turn for you, imagine how many might be able to walk into the promised land through a path you described. How many stories might see the light that they might otherwise have not. In this moment, there is nothing more revolutionary, counter-cultural...than simple human decency. "
Learn more about the undergraduate Creative Writing Program here: https://www.cmu.edu/dietrich/english/undergraduate/ba-cw/
To join the Carnegie Mellon University community in contributing to the Tree of Life Congregation Synagogue, attend the Friday, November 2 Open-Mic night benefit or donate here: https://www.facebook.com/events/1958454017522983