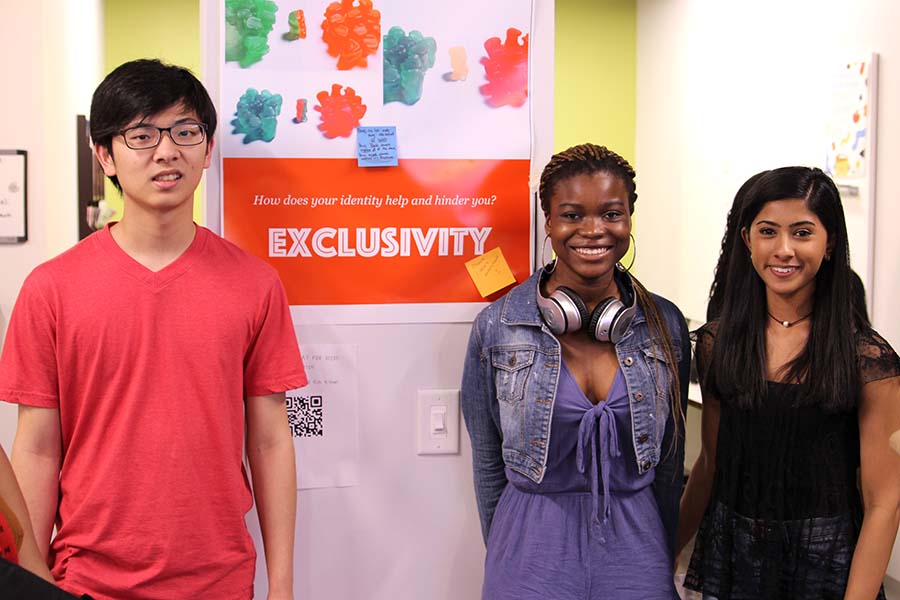 May 14, 2018
First Year Writing Class Asks: How Do You Talk About Race?
By Daniel Hirsch djhirsch(through)andrew.cmu.edu
All semester-long, one First-Year Writing class has been engaged in an often challenging, frequently thorny discussion—they've been talking about race. Specifically, in the Carnegie Mellon University First-Year Writing course "Interpretation and Argument: Communicating about Race," students developed strategies to talk about race in an inclusive and productive way.
Taught by Gregory Laski, a visiting assistant teaching professor in the Department of English, students read theory and essays to examine competing conceptions of race and encountered strategies for talking about race with diverse audiences. The class culminated with a public exhibit at the Center for Diversity and Inclusion of student-created posters intended to elicit thoughtful discussions. The class was a pilot for a new type of of First-Year Writing course focused on community engagement in which students will have the opportunity to research and write about the CMU community.
"In his recent book 'College,' Andrew Delbanco argues that the college classroom should constitute a 'rehearsal space for democracy.' We don't often consider higher education in that way, and I think a course like this one can really help make that crucial aim material for students and faculty alike," Laski said recently about his course. "Certainly, questions of race and equality are inextricable from any discussion of democracy and who counts as a 'citizen.'" 
For the exhibit, students created posters that used many strategies to provoke conversations. In one, infographics about CMU's demographic profile laid out what constitutes "normal" on campus. In another, students made use of the iconic CMU Fence with the caption: "Tradition is a guide, not a prison. How does tradition guide you?"
Both the class and the exhibit focused on specific keywords that can guide difficult conversations. In doing research for their exhibit posters, many students made use of archival material from Hunt Library's "Tartan" archive to better understand how the meaning of keywords like "diversity," "majority," and "minority" have changed over time.
As a final culmination to the course and exhibit, students hosted a closing event the final week of classes in which a gathering of roughly 60 participants were encouraged to stand next to the poster that most intrigued them. Student moderators led small group discussions about the ideas and questions the posters provoked.
"This class made me more open to talking about race in general," said First-Year Writing student Aditya Shekar. "Before this class, I was always somewhat apprehensive to ask anyone what their opinions were. However, now I realize the importance of starting these conversations."
For First-Year Writing student Katelyn Liston, she learned one virtue is most important in any discussion about race: patience. 
"Talking about race is hardly ever an easy thing to do," Liston said. "So, having a fantastic professor who encourages us to discuss this topic in a productive and empathetic manner helped me further learn that people make the same point in various ways and points that you don't agree with can still come from a good place."
For Laski, it was vital that as students develop strategies for communicating, they hone their listening skills as sharply as their speaking ones.
"One of the things I think the course underscored for me is the importance of considering the perspectives of others: to really try to understand, as best as possible, where someone is coming from—and to understand the history behind that position," Laski said. "That's a really difficult and yet urgent skill."