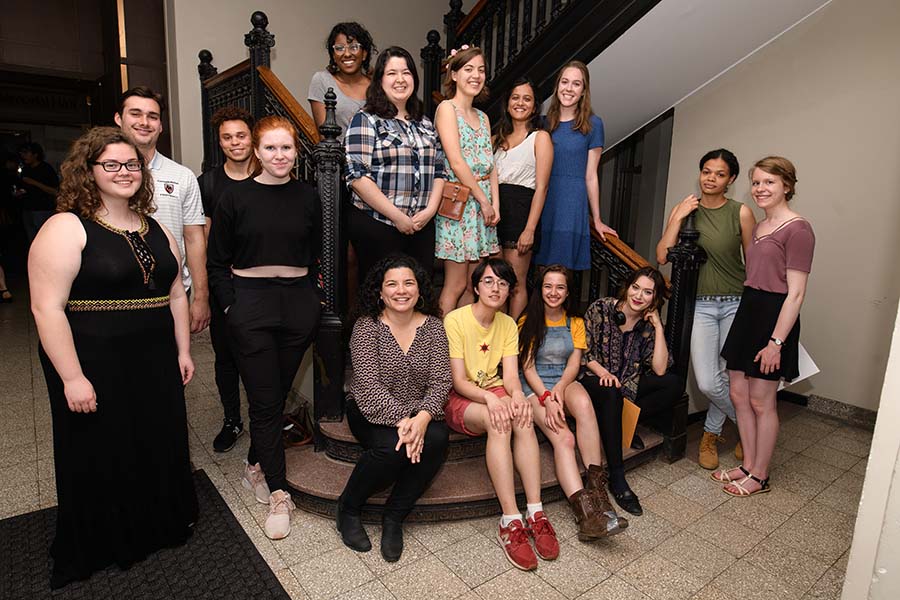 May 11, 2018
Creativity and Craft Honored at Adamson Student Writing Awards
By Daniel Hirsch djhirsch(through)andrew.cmu.edu
Every spring, Carnegie Mellon University's Department of English's Creative Writing program celebrates the year's best student writing with the Adamson Student Writing Awards. This year's awards ceremony was no different, with prizes given to the student authors of expansive poetry collections and in-depth accounts of alligator parks.
Seventeen students received prizes for work in poetry, fiction, non-fiction and screenwriting as well as a special award for best senior honors thesis.
"The Adamsons are an important part of our program, because, much like they will do in their professional lives, our students are competing for prizes and recognition based only on their work," said Sharon Dilworth, associate professor of English and director of the Creative Writing Program. "Students learn to submit their best pieces and to work towards a professionalism in their fields. It's also the capstone of a year of writing and the night is a chance to celebrate our students. It's always so much fun."
Novelist Sarah Shun-lien Bynum presided over the ceremony and gave a keynote address. Shun-lien Bynum is the author of "Madeleine Is Sleeping" and "Ms. Hempel Chronicles" and one of the New Yorker's "20 Under 40." 
"It always feels a little scary putting your work out for someone to read, but to be recognized felt so surprising and thrilling," said senior Maria Navarro-Gutierrez, who won first place for non-fiction. "It was also amazing to get to meet Sarah Shun-lien Bynum. She has so much personality and humor and warmth in her writing and hearing her read really inspired me to try something different in my own writing."
A selection of authors who are emerging and prominent voices in their respective fields judged the submitted student work and provided commentary on the winning pieces.
Senior Isabel McCarthy won the Edythe & Leon Nagin Award for Best Senior Honors Thesis for her collection of poetry, which translator and author Dan Rosenberg who judged this award described as  "both surprising and limpid, stitched together by a voice strong enough to straddle a dazzling array of structures."
In a piece title "Tex," senior Navarro-Gutierrez wrote about Gator Country Adventure Park. It was work that both won her first prize for non-fiction and high praise from the category's judge Hilary Plum, the award-winning author of "Strawberry Fields."
"This writer's journalistic skills move us from a central action-packed scene—grappling with an alligator over 13 feet in length—into a thoughtful larger consideration of the relationship between humans and alligators and the misconceptions that threaten this species," Plum wrote in her judge's citation.
"It's the narrator's voice—wry and vulnerable, credibly adolescent and wise, all at the same time— that truly shines," wrote novelist Nick Dybek about sophomore Yifan Zhao's short story "Butch" which won first place in fiction  "This is a sad, funny, timely and important story."
Responding to the poems of first place in poetry winner senior Marcel Legros, poet Emily Pettit wrote, "Marcel Legros's moving poems give complex attention to the world."
Junior Vidya Palepu's screenplay "Sudha and the Cowherd" won first place for screenwriting as judged by filmmaker and novelist Dean Bakopoulos, whose own work has landed on the New York Times Notable Books list.
"It's a script that showcases an emerging talent with excellent visual and dramatic instincts, as well as a big heart," wrote Bakopoulos of Palepu's script. "The simplicity of the story is initially deceptive, and this work is unafraid to wrestle with large, universal themes in quiet and compelling ways."
For senior McCarthy, whose poetry also won the Donna Greer Memorial Award, the recognition meant a lot.
"The Creative Writing Department has been my home at CMU for the past four years," McCarthy said. "I always try to put my best foot forward here and receiving that award made me feel like I had somehow made a small impact on this community."
The 2018 Adamson Student Writing Award Winners
Poetry
Marcel Legros, First Place
Mercedes Hesselroth, Second Place
Joss Green, Third Place
Isabel McCarthy, Tracy Le, Honorable Mentions
Academy of American Poets Prize
Summer Jade Leavitt 
CMU Press Prize
Roosha Mandal
Nonfiction
Maria Navarro-Gutierrez, First Place
Sinead Foley, Second Place
Bobbie Soques, Third Place
Fiction
Yifan Zhao, First Place
Vidya Palepu, Second Place
Sinead Foley, Third Place
Jenny Bornemann, Owen Fox, Honorable Mentions 
Screenwriting
Vidya Palepu, First Place
Katherine Bussato, Second Place
Jake Bentley, Third Place
Rebecca Enright, Honorable Mention
Edythe & Leon Nagin Award for Best Senior Honors Thesis
Isabel McCarthy
Donna Greer Memorial Award
Isabel McCarthy