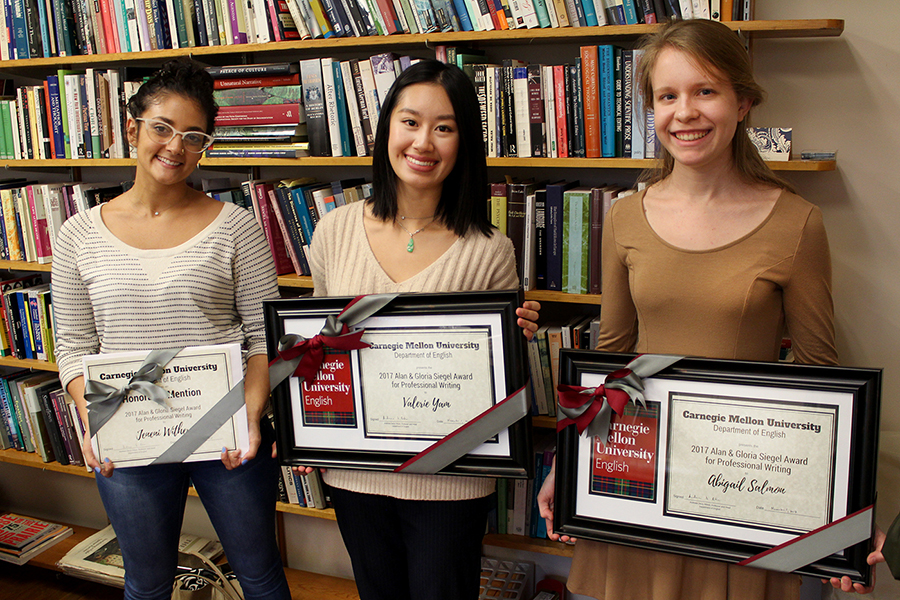 November 06, 2017
Juniors Win Siegel Award for Kiltie Instructions
By Daniel Hirsch djhirsch(through)andrew.cmu.edu
This month, the Department of English was pleased to award juniors Abigail Salmon and Valerie Yam the Siegel Award for professional writing with a prize of $500 for each of the students.
Yam and Salmon collaborated on an instructional document titled "How to Wear the Kiltie Band Uniform," which, like the title suggests provides illustrated instructions on how to correctly put on the traditional Kiltie worn by Carnegie Mellon University's beloved Kiltie Band.
The document was inspired by Salmon's own time on the Kiltie Band because "the uniform is surprisingly complicated." As associate professor James Wynn noted when he handed award certificates to Salmon and Yam in a small ceremony last week, the document is "as instructive as it is amusing."
The Siegel award, which recognizes outstanding work by a professional writer, is endowed by Alan Siegel, president of Siegelvision and nationally renowned for his research on plain language and clear communication.
The Siegal Award also included honorable mentions for essays that encompassed a range of genres in professional and technical writing. English students Jeneni Withers, Sarah Bender, James Wheaton, Aisha Rashid, Krishna Rao, Valene Mezmin, and Emma Flickinger all earned honorable mentions.
--
Above: Seigel Award honorable mention Jeneni Withers with winners Valerie Yam and Abigail Salmon.