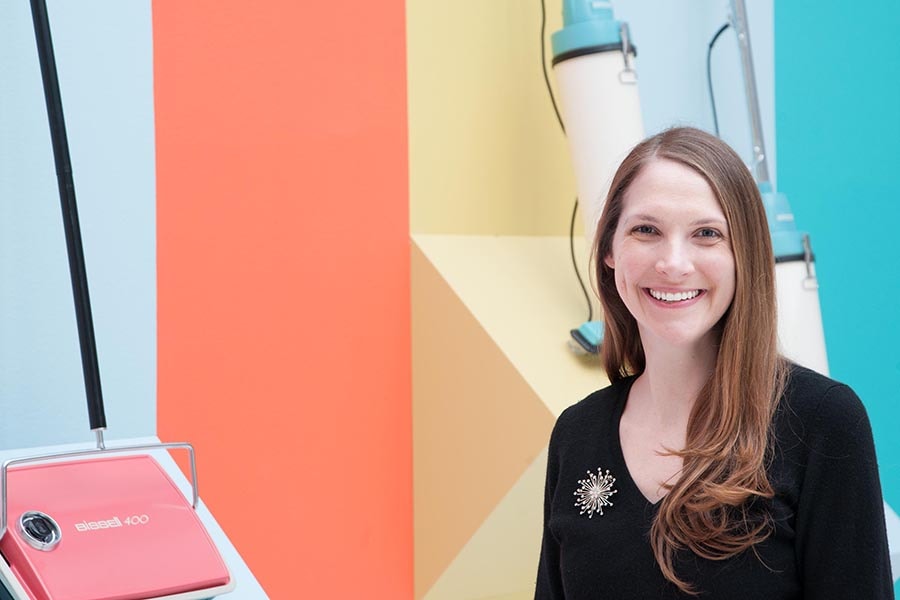 November 17, 2017
LCS Alum Rachel Delphia's Circuitous Route to Curatorial Career
By Daniel Hirsch djhirsch(through)andrew.cmu.edu
Following her graduation from the masters program in Literary and Cultural Studies in 2003, Rachel Delphia has been offering Pittsburgh and the larger community new ways to see design in their lives. As the Alan G. and Jane A. Lehman Curator of Decorative Arts and Design at Carnegie Museum of Art where she's worked since 2005, Delphia curates exhibits on all manner of design— from steel to silicon. Delphia recently answered some questions about her work and the impact that her time in the Department of English at Carnegie Mellon University has had on that work.
You've done some pretty exciting curatorial work at the Carnegie Museum (As a mid-century modern fan myself, I was totally enraptured with your exhibit on Peter Muller-Munk), but what's the best part of your job right now? What's a project that you are most excited about?
Thanks! The Peter Muller-Munk show was an amazing experience. As a CMU alum and design historian, I was honored to have the platform to tell his story. He was a professor here and founded our city's first major design consulting firm. It was an overlooked chapter of Pittsburgh's past: an intersection of art and industry.
The best parts of my job right now are teaching and building the collection. I am teaching a course called "Object Lessons: Design History at the Museum" for the School of Design. It gives me an excuse to spend time with objects that I love but are not currently on view. I am also developing the collection to reflect the impact of digital technologies on design. It is a curious and challenging task to make selections that will represent our present moment to future generations.
How did your time at the Department of English in Literary and Cultural Studies influence the work you're doing now and your career path more generally?
I began my studies in the School of Design (BFA, Industrial Design), so I needed academic credentials to pursue a career as a scholar and curator. LCS helped me make that pivot. The professors were gracious in allowing me to apply critical thinking to physical objects rather than to texts. It was a circuitous route to a curatorial career, but I never would have ended up where I am without LCS.
When you first came to get your masters in the LCS program what did you hope to get out of it? Did those goals change over your time here?
I should acknowledge here that my engagement with LCS really started as an undergraduate: I completed a double major. At the beginning, I was looking to satisfy an aspect of my intellect that was not fulfilled by my design studies. That's not to discredit design education at all; I was just drawn to the craft of interpreting and writing as much as I was to visual thinking. Although, I could not have articulated that as an undergraduate. I was just stumbling towards what inspired me. By the time I signed up to stay on for a masters in LCS, I knew I loved the discipline. Then I was shoring up academic credentials with a faculty who knew me well before I pursued further graduate work in the history of decorative arts and design.
Do you have any favorite classes, experiences, or professors that you remember from your masters program? 
Michael Witmore, Kathy Newman, and Kristina Straub. Thank you, thank you, thank you!
Is there anything you think current or prospective students should know about the Literary and Cultural Studies program that's not immediately apparent?
The program is small enough that students get individual attention from some brilliant and generous scholars. Take advantage of that opportunity. It is a very nurturing environment.
--
Above: Rachel Delphia at the Carnegie Museum Art, photo by Bryan Conley for Carnegie Museum of Art.