April 06, 2017
CMU English Celebrates National Poetry Month, 2017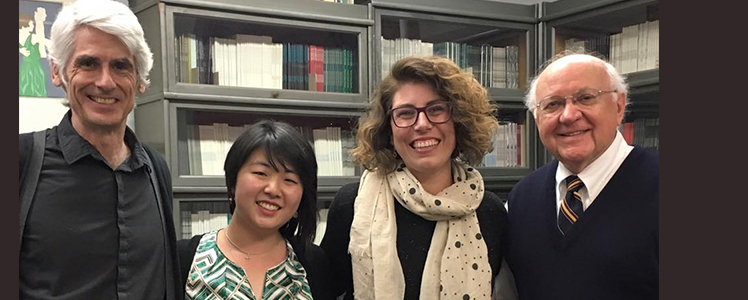 Since April is National Poetry Month, Carnegie Mellon English is taking this opportunity to recognize the work of its talented students, faculty, and alumni-- all month long!
Week of April 3:  Joshua Brown
A junior English major, Joshua Brown began his career at CMU by placing third in the Martin Luther King, Jr. Day Writing Awards. Read his award-winning poem below!
When I was Born, I came out Swinging
When I was born, I came out swinging
I spanked the nurse, and he tried wringing
My little neck.
I spanked the doctor, and she cried while bringing
My bassinet.
When I was born, I came out singing.
I tried harmonizing, desperately clinging
To the hope that I would emerge to find
A world willing to embrace the differing
Pitch of my discordant heart strings.
When I was born, I came out swinging.
Prepared to beat back the savage stinging
Of this world's brutal precoccupation
With my private passions.
When I was born, I came out singing
The praises of doves, gracefully winging
Across my future's love-torn horizon,
Rebuking Cardinals for their bloody
Prejudice.
My heart never stops tingling
With love for lovely men and women,
This part of me, ceaselessly ringing
With rage for mankind's withheld
Kindness.
When I was born, I came out.
Wasn't once enough?
Week of April 10:  Lauren Shapiro
Assistant Professor of English, Lauren Shapiro has had two collections of poetry published: "Easy Math" (Sarabande, 2013), and her chapbook "Yo-Yo Logic" (DIAGRAM/New Michigan Press, 2011). Read her piece "10,000 Dads," which was recently featured in the Pittsburgh City Paper!
10,000 Dads
We have 10,000 dads. "You're so lucky!" say all our friends. "You're so complicated!" say all our therapists. "Your mom must be so hot!" say all the sleazebags. But sometimes it's hard. Having 10,000 homes and 10,000 toothbrushes is tricky. The holidays are rough, and remembering every dad's birthday is impossible. Saying good morning takes all day. Life is a constant fight for attention for the poor dads. They beg and plead with us to have a meal with them or hit around some baseballs. They follow us religiously on Facebook and like all our posts. They have such good hearts, the 10,000 dads. But in the end, how well do we really know any of them?
Week of April 17:  Marci Calabretta
Marci Calabretta Cancio-Bello graduated from CMU English in 2011 with a B.A. in English and an additional major in Creative Writing. Marci is the author of Hour of the Ox (University of Pittsburgh, 2016), which won the 2015 AWP Donald Hall Prize for Poetry and the 2016 Florida Book Award bronze medal for poetry. She has received poetry fellowships from Kundiman and the Knight Foundation, and her work has appeared in The Adroit Journal, Best New Poets 2015, The Georgia Review, Los Angeles Review of Books, and more. She serves as a program coordinator for Miami Book Fair and producer for The Working Poet Radio Show. 
Most Famous Sheep in the World
                        for Shrek, who escaped shearing for six years
They called you renegade & rock-dweller—
innocuous cloven-hooved creature,
ghost against surveillance & shears,
elusive ram from whose sides
sprouted six years & twenty suits
of merino wool—never
pausing to ponder how, after
the thickness of caves & dark
oiled in lanolin, when the heavy mantle
was shorn from your shoulders,
the sun must have blinded & refracted
against your pale, lamb-like body
cleansed by shrubbery & blade. 
There Are No Chipmunks Where We Live Now
I remember the child version of myself
one April coaxing the striped fur up my leg
with handfuls of leftover Christmas nuts.
In the only photograph of me that year,
I was all blur and blue jean in the lens
that stilled and sharpened the creature
even to the tuft of gray-flecked brown
missing from behind its left ear.
Now, my mother calls me
with a new number for the chipmunks
she has relocated to the old logging site,
although she may be counting twice
because they keep coming back.
She no longer empties bags of mixed nuts
in a glass bowl etched with holly, but
writes it on her list and crosses it off
almost immediately as she asks me
if this Christmas I'll be coming home.
Week of April 24:  Jesse Leung
Jesse Leung is a senior majoring in creative writing. He was born and raised in Honolulu, Hawaii, where setting off fireworks is popular not just for holidays but for events such as birthday parties and business openings as well. At one point the state government decided it was getting out of hand, the excessive smoke was a health risk and the fire department was tired of putting out houses, so they implemented a partial ban on certain types of fireworks and placed limits on how many people could buy with permits. Jesse recalls how it felt like they were losing an expression of their heritage. His poem is a reflection on how at the moment when the ban went into effect, he had already felt like he was outgrowing the activity, but still appreciated the memories of spending time with friends and relatives, and feeling connected to this shared cultural identity of what it means to be from Hawaii.
Aloha e Keahi. Goodbye Fire.
It was the last night for fireworks in the Islands.
Rain had fallen that morning
as the clouds scraped their bellies
crossing the Ko'olau mountains.
In day's heat, moisture suffused with the air,
carried with it the pungent musk
of banyan, and bamboo, and half-rotten guava.
We stood in the street-light's warm glow,
empty twenty-somethings in board-shorts and slippa's,
its scent clinging like the sweat of our beer bottles.
From this house above the mountain's knee,
deeper in the valley, we saw smoke fill the streets
until only the light-posts and telephone poles
were visible. Cars crept along, high-beams
stretched out like glowing insect feelers,
wary of children that skipped through the haze
and screaming disks of green and red flame.
The thick grey blanket seemed to hush the distant city.
Honolulu's pulsating wall of high-rises, the ocean-like roar
of motors on a crumbling highway, now suffocated
by the chittery thrum of Kona wind in the leaves,
the thunderous boom of home-made pipe bombs
set off in pot-holes,
siren flashes.
In the center of the cul-de-sac we filled a cardboard box
with our collective treasure hordes, decades worth
of jumping-jacks, cracking balls, and morning glories,
save for the poppers we threw at each-other's toes,
just as when we were small keiki.
Between rounds of "Did you hear Katie got engaged…?"
and "Did Ryan really sell his kidney…?"
we recounted tales of stray rockets and extinguished garages,
paper tanks and cherry bombs blasting holes in coke cans,
the ways our fathers taught us to cock our arms and flick our wrists
after we lit a fuse, the sickly-sweet grit of gunpowder
between our fingers.
A narrow red river of Chinese crackers traced its way
from the lip of the box to the curb where we sat,
an anemic pantomime of our blood heritage.
Mr. Lee down the street kept tradition, a curtain
of five thousand hung from a pole on a painting ladder
Three gold-trimmed drums at the top.
It's midnight.
We count down. We light. We watch light hiss
Across the ground as along the horizon aerials bloom
And fade, like a field of dandelions in the wind.
We cover our mouths with our shirts in anticipation.
A spark climbs its way into the box. Ignition.
They spin. They pop. They-
Catch.
--
Pictured above: Professor Jim Daniels with alumnae Marci Calabretta and Danielle Pieratti and Professor Gerald Costanzo at a poetry reading on campus.