November 20, 2017
Rhetoric MA Megan McGrath Takes Feminist Lens to Wearable Tech
By Daniel Hirsch djhirsch(through)andrew.cmu.edu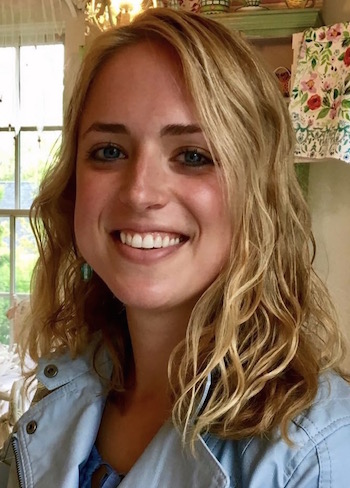 Since she graduated from the masters program in Rhetoric in 2013, Megan McGrath has entered a PhD in Rhetoric, Scientific, and Technical Communications at the University of Minnesota and she's in her last year now. At UMN she teaches technical and professional writing and is in the final stages of completing her dissertation, which examines the rise of wearable health and fitness trackers. McGrath recently answered some questions about her work now and her time at Carnegie Mellon University's Rhetoric program.
What are you working on right now? What's a project that you're particularly excited about and why? 
I am in my final year of my PhD, so, needless to say, my biggest project right now is my dissertation. It explores how and why people use wearable health and fitness trackers, and what value is seen in their "cyborgian wearability," specifically. I am particularly excited about the opportunity this research gives me to interview people who regularly use health and fitness trackers and learn why they started using a wearable, how often they notice and consult the device, what sort of data it collects, and how they assign value or meaning to the data. Since health and fitness are culturally constructed values, and because technology has the ability to constrain opportunities for some people while it expands opportunities for others, I enjoy using feminist and rhetorical theory to analyze how well a technology proclaimed to be designed for anyone delivers on this claim in practical contexts. 
How did your time at the Department of English in the Rhetoric program influence the work you're doing now and your career path more generally?
For starters, I would not be at the University of Minnnesota-Twin Cities right now if not for the advice and mentoring of Dr. Andreea Ritivoi (my final adviser while at CMU). And, the longer I've been away from CMU, the more I've seen just how much of a theoretical and practical foundation the MA in Rhetoric Program gave me. Dr. Ritivoi's "Contemporary Rhetorical Theory" course was particularly instrumental in preparing me for my rhetoric prelim exam and a research methods course I took in my second year at UMN. I also continued and enriched the research I started in Dr. Ritivoi's course and Dr. David Kaufer's "Rhetorical Analysis" seminar on writing women into the rhetorical canon well into my third year at UMN. Dr. Suguru Ishizaki's "Communication Design" course has since helped me analyze the communication surrounding wearable technologies. And although CMU's MA did not have a teaching component, Dr. Danielle Wetzel's "History, Theory, and Practice of Writing Instruction" course made me feel equipped to embrace teaching First-Year Writing, despite lacking actual experience in doing so. 
When you first came to do your masters in the Rhetoric, what did you hope to get out of it? Did those goals change over your time here?
I came into the MA in Rhetoric program thinking that I would ultimately pursue a PhD in Rhetoric and/or Composition, a goal I have since sought at the University of Minnesota and hope to complete by this summer. Therefore, my time at CMU only confirmed my enthusiasm for research, teaching, and purposeful communication, and I'm forever grateful for how well CMU prepared me to handle the intensity of a PhD program and potential academic career.
Is there anything you think current or prospective students should know about the Rhetoric program that's not immediately apparent?
From my experience, having a degree in Rhetoric from CMU garners immediate name recognition and respect, so you will quickly see how being an alum of the program is a privilege and well worth your time, effort, and money. I also think that, because CMU's Rhetoric Program is an intensive, one-year experience, you can easily get so bogged down in your work that you do not necessarily realize how well the program's pace and rigor are preparing you for the demands of a PhD program or future career. I look back on my time at CMU with great fondness and appreciate the analytical tools it helped me cultivate through the program's focus on balancing breadth with precision. 
--
Above: Megan Mcgrath in her home.