August 30, 2017
Alumna In Law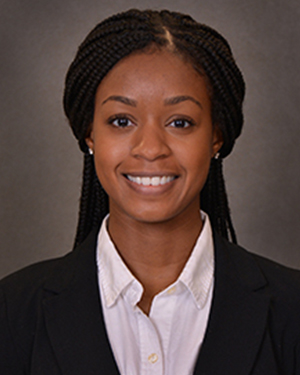 When Kyla Vick first stepped onto campus, she planned to emerge ready to become an orthodontist. But then her plans changed. 
Now at 23, Vick (English '15) has done things she never thought possible, like seen the inside of a federal courtroom and secured a position as a summer associate at an exclusive Chicago law firm. 
"I always planned on having a minor in English," Vick said. "I knew I loved the English classes I was taking. I loved reading, discussing and researching, so I knew an English major would be for me." 
The new direction lead Vick to classes on the First Amendment and Bill of Rights and into the classroom of English Professor Kristina Straub. 
"I took a research class with Kristina where I had to pick a topic and argue why it was important, through papers and presentations," Vick said. "That was helpful because in law school there are times where a professor will cold call and you have to be able to think on your feet and present your case well." 
Entering her second year at Washington University School of Law, Vick sees herself exploring the field of litigation. 
"I've gotten a lot of comments like 'Why did you go to a technical school for English?'" Vick said. "CMU English is a hidden gem. Everyone was super hands on; I got everything I needed out of that program." 
Straub isn't surprised that Vick's undergraduate training has served her well. 
"It has been a huge pleasure to watch Kyla grow from being a 'good kid' who was working, pretty successfully, to 'fit in' at college—the goal of almost every first-year student—to a strong adult with her own sense of purpose and vocation," said Straub. "This process has meant that Kyla has come to own who she is and what she wants, including commitment to the legal career she thought she did not want when she started at Carnegie Mellon."