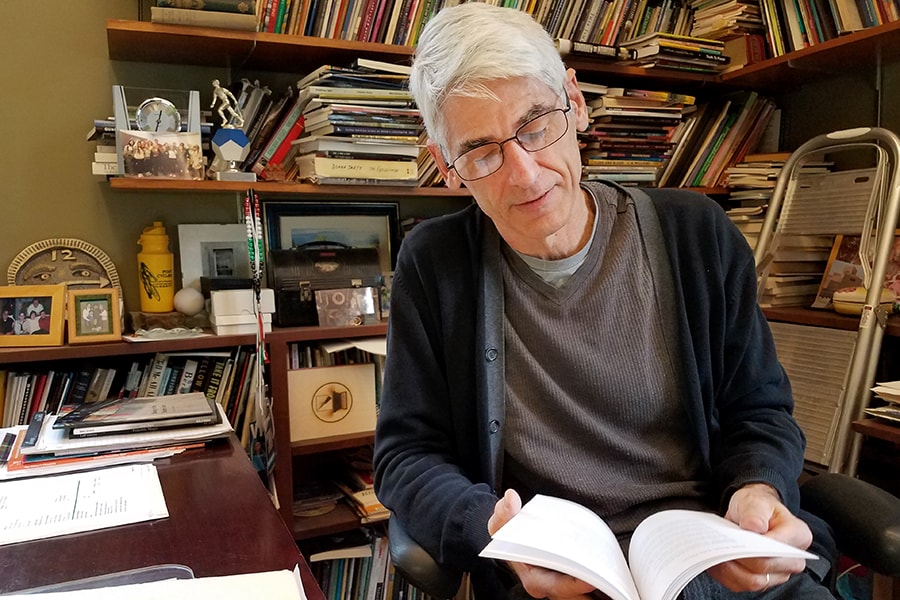 November 14, 2017
In 16th Poetry Collection, Jim Daniels Returns to Old Turf With New Eyes
By Daniel Hirsch djhirsch(through)andrew.cmu.edu
In "Street Calligraphy," Jim Daniels's newest collection of poetry, kids scrawl expletives on broken brick, a nurse gets mugged on her way home from the rehab clinic, fathers drink longnecks of PBR while navigating the Ohio Turnpike and stoned, would-be lovers share cigarettes outside dingy music clubs.
It's a richly rendered and emotionally fraught world inspired by Daniels's upbringing in blue collar Detroit. And, it's terrain that Daniels, the Thomas Stockham Baker University Professor of English at Carnegie Mellon University, is swift to admit has been a central preoccupation of his poetry in the past.
"'Where you're from is the ZIP code to your heart,' is something the writer Richard Price has said, and it's become my own personal mantra," Daniels said recently. "So, I continue to go back and see the past, and where I'm from, differently, to see it through the lens of the present."
With its interest in the themes of addiction and economic disenfranchisement, elements of Daniels's past in "Street Calligraphy" remain persistently relevant to the present — both his own and our current politics with its opioid epidemics and economic inequality.
Daniels thinks of "Street Calligraphy," which is his 16th collection of poetryas a follow up to last year's "Rowing Inland," but with a slightly harder edge. It looks at his past with less nostalgia and more scrutiny.
"As I get older, I try to recognize the many complications of these themes I've explored before," Daniels said. "My poems have gotten longer, I hope it's not just because I've gotten long winded, but because I'm digging in deeper.
"Street Calligraphy" is available through Steel Toe Books and excerpted below.
Cutwoman In The Corner House

My mother the nurse, designated secret
sharer for women in flight angling across
the lined square grid of streets built by men.

Mrs. Anders tumbled, bruised, over the back fence,
Mrs. Blondell and the glass shard,
Mrs. Laney and the teeth, Mrs. Dodge and the burn—
my mother held ice against sobs.

If women in trouble emitted contrails,
the signals quickly dissipated, wind gusted,
dogs howled, husbands hammered and cursed,
red crosses scrawled in invisible ink, shades yanked down

against idling engines, twisted sirens, drunken hours.
My brothers and sisters pressed against the closed
kitchen door, our father at the factory, our TV ignited
for warmth—'60s situations without comedy.

The high-pitched alarm only women could hear
at our kitchen table between rounds—
what my mother did, forever dissipated. All we knew:
she patched them up, sent them home.
--
Above: Jim Daniels in his office.