May 15, 2017
English Major Melanie Diaz Earns Fulbright Award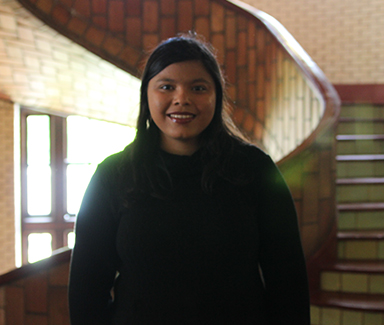 Among the six Carnegie Mellon University seniors who have been named Fulbright award winners, one of them will be graduating from CMU English this spring.
Melanie Diaz, English and Global Studies with a minor in Politics and Public Policy, is the recipient of a Fulbright English Teaching Assistantship award. In a position co-sponsored by the Government of La Rioja, Spain, Diaz will spend her summer teaching up to 16, 50-minute class periods a week in La Rioja. She will assist in English language classes and other subjects taught in English at an elementary or secondary school. She also hopes to volunteer with an organization focused on refugee assistance.
Diaz said that she is looking forward to gaining teaching experience, since she hopes to pursue work in teaching and educational policy reform.

"I believe that this will complement my past experiences as a teaching assistant in the Los Angeles Unified School District, and will enhance my capabilities to teach amidst a diverse array of students in the future," she said.
"This year's Fulbright awardees personify the ideals of the Carnegie Mellon undergraduate experience," said Joanna Dickert, assistant director of undergraduate research in CMU's Fellowships and Scholarships Office, which provides support to students applying for nationally competitive fellowships and scholarships. "They are committed scholars and citizens who have crafted distinctive paths for intellectual exploration that embraced experiential learning via undergraduate research, study abroad and service learning. We have every confidence that they will continue to learn, create, discover and inspire in their respective host countries as ambassadors for Carnegie Mellon and the United States."