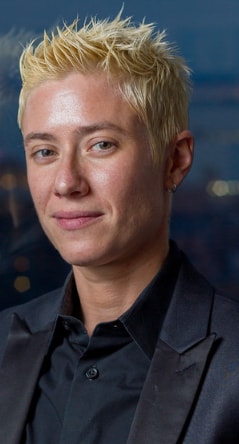 November 16, 2017
LCS Alum Elizabeth Bishop Takes Foucault to High School
By Daniel Hirsch djhirsch(through)andrew.cmu.edu
Education researcher Elizabeth Bishop doesn't shy away from critical theory. In writing her 2015 book Becoming Activist, which is a study of a group of five New York City human rights youth activists as they develop critical literacy skills, Bishop says her training in post-structuralist theory was fundamental — training she acquired while in the masters program in Literary and Cultural Studies in the Department of English.
"My education in the masters program was really essential to think about things like systems of power and knowledge, especially in relations to youth activists," Bishop said recently. "What I learned at Carnegie Mellon University has informed everything that has come after."
The book examines the ways that a group of youth activists' identities and critical literacies develop over the course of their time at the Drop Knowledge Project, an afterschool program run by the non-profit Global Kids Human Rights Project. With an interest in a non-normative, non-moralizing discourse, Bishop describes the approach of the work as "deeply post-structuralist." It's a study of a subject that examines the subject but also the formation of knowledge and information about that subject.
"For me, as someone who would align more with deconstructionist traditions, what I was interested in was how youth activists were going to articulate their identities in different ways," Bishop said. "I say clearly in first chapter, I'm not trying to identify one way to be an activist. That's the counter-critical nature of the project."
Bishop credits the Literary and Cultural Studies program with her specific approach to the research. It was at CMU that she delved into theorists like Jacques Derrida, Michel Foucault, Gilles Deleuze, Chantal Mouffe and Felix Guattari via English professors like David Shumway, Kathy M. Newman, and Jon Klancher and Melissa Ragona in the School of Art.
"At CMU, I got the invitation to play with ideas," Bishop said. "In her class, Peggy Knapp was very open to let me take radical deconstructionist lens to texts like Henry IV. I built all this writing around politics, ethics, and resistance around my scholarly training."
Bishop's book also comes from her unique trajectory after she graduated from the masters program in 2005 year. Following her time at CMU, Bishop spent three years as a New York City Teaching Fellow where she taught English and Global Studies at a high school in the Bronx— with an approach flavored by her masters degree, she is quick to note.
"Even being a public high school teacher, I brought in Foucault all the time," Bishop said of the French philosopher and literary critic who examined the relationshp of power and knowledge.
Following her time as a Teaching Fellow, Bishop found a role as an educator at Global Kids. In particular, she focused on the Human Rights Activist Project that trains and mentors youth to become more involved in public policy discussions. It was this work that pushed Bishop to continue her education, and ultimately provided inspiration for her book. From New York, she returned to Pittsburgh to get her PhD in Education with a focus on Language, Literacy and Culture at University of Pittsburgh. Again, her strong foundations in theory guided her path.
"When I got my PhD at the School of Education at Pitt, I was invited in ways to think about epistemology and research methods," Bishop said. "Some of the critical theory, race theory, gender theory, and post-colonial framing were things I knew very well from my work at Carnegie Mellon and I was able to go deep into theories in a way maybe some of my classmates didn't."
She has held teaching positions at Ithaca College and Columbia, and now finds herself at Global Kids once more. After writing the book inspired by her time at Global Kids, Bishop returned to the non-profit and hopes to find more ways to use theory to inspire activism and political engagement in the non-profit's students.
Bishop's next book, titled Embodying Theory: Epistemology, Aesthetics, and Resistance and due out in 2018, furthers her project of bringing the ideas of critical theory into practical and political use. Its original title was "Making Theory Walk."
"Oftentimes when you start talking about Derrida or Foucault, there is this idea that it is inaccessible or too abstract. The whole premise of this next book is to make that not true," said Bishop. "It's about making theories 'walk' and how you can take theory into your life."