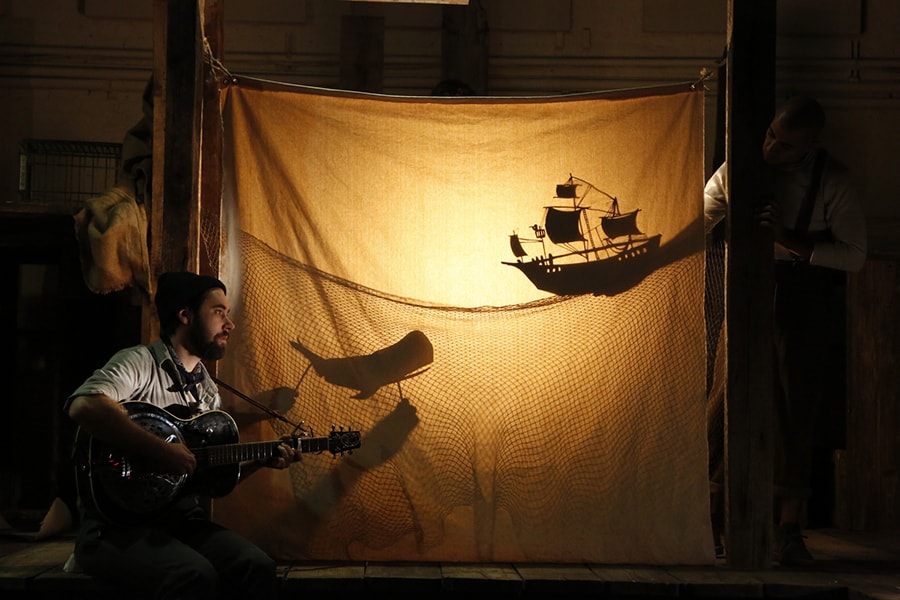 November 21, 2017
First Person: Ben Ferguson's Journey to 'Old Moon' Started in Classroom
By Daniel Hirsch djhirsch(through)andrew.cmu.edu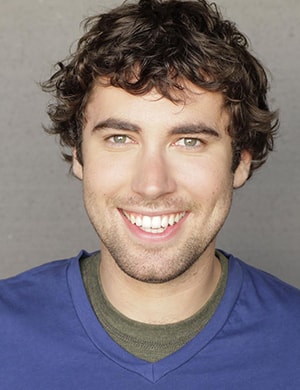 Started by a gang of seven students at Carnegie Mellon University School of Drama in 2007, PigPen Theatre is quickly becoming a rising star in the intersecting world of musical theater, bluegrass, film, and live storytelling — a world they uniquely inhabit with their signature mix of all four. They've recorded three studio albums, won numerous theater awards, and even appeared on film with Meryl Streep.
Though much of their work is in performance, PigPen member Ben Ferguson ('11, CFA) is quick to note that it all starts on the page. While a student at CMU, Ferguson found valuable training in the Department of English's Creative Writing Program. He says it's in those classes that he honed his skills as a storyteller.
PigPen has returned to Pittsburgh to perform their critically acclaimed show "The Old Man and the Old Moon" at City Theatre, which runs until December 3. The return has Ferguson reflecting on his time as a student in Pittsburgh. He recently answered some questions about his work with PigPen and how his time as a Creative Writing student pushed his creativity to new places.
I know Pig Pen members were all School of Drama students, but you also took some Creative Writing classes in the Department of English, correct? What were those classes and how did they influence your writing and work?
Indeed, I did take creative writing classes, and it was easily some of my favorite work from college. I took short form writing with professor of English Sharon Dilworth, and I can't sing enough of her praises. I think it's easy in college to get tunnel vision, and focus solely on your own work in your own major, without opening your eyes to the rest of what the university has to offer. However, I found that through my writing classes I was able to exercise and flex creative muscles that I wasn't getting in my training in the Drama Department. Of course, it is helpful to have a teacher like Sharon who recognized a modicum of talent in me, and then pushed me to improve by understanding how to structure story, how to focus my ideas, as well as maintaining creative freedom, in order to allow for exciting possibilities on the page.
Briefly, tell me just a little bit about "The Old Man and the Old Moon." What was the original kernel for this very unique piece of theater?
"The Old Man and The Old Moon" is the tale of an old man who has the duty of filling up the moon every night with liquid light. He lives with his wife and they have, over time, forgotten their past. One day, his wife hears a mysterious melody on the wind and decides to follow it, and so the old man must make the choice to stay in the comfort of his home or to follow after her. It's a seafaring adventure. The original kernel for the play was just a short fairy tale that one of the PigPen members had told to a group of kids at camp. From there, we did some collective brainstorming, songwriting, and story creating to make what is now the play.
After working on it for several years at this point— the show has been in New York, Chicago, and Boston —  what's an aspect of the show that remains the most exciting for you?
The audience. It is most exciting for me, and the play is at its best, when audiences make the decision to come along for the ride of the show. It is a family friendly show but we wanted audience members to take away something special depending on where you are in your life. As a kid watching the show, you might enjoy the adventure of it all. As a young adult, I hope people leave the show inspired to find creativity in their own lives. As an older audience member, I hope you see that it is never too late to start anew on your own thrilling adventurous life. And, most importantly, I hope the audience has the chance to leave their real world behind, for just an hour and a half, to sit in a room and fully enjoy the experience of a story being told.
What's it like to be back in Pittsburgh performing this show where your whole crew first met?
It's quite surreal being back here. Pittsburgh is steeped in nostalgia for us, yet still feels new and unexplored. As a city, it's changed dramatically since we were in school, and at the same time, Pamela's pancakes have never tasted better.
Any advice for current writing students interested in theater, songwriting, or otherwise?
Read a ton. Go see people perform both theatre and music. Listen to people and the world around you. Surround yourself with people you like and find people who are more talented than you are because they will push you to be better. 
--
Above (Top): Ben Ferguson in PigPen Theatre's "The Old Man and the Old Moon," photo courtesy PigPen Theatre Co. 
Above (Left): Ben Ferguson.