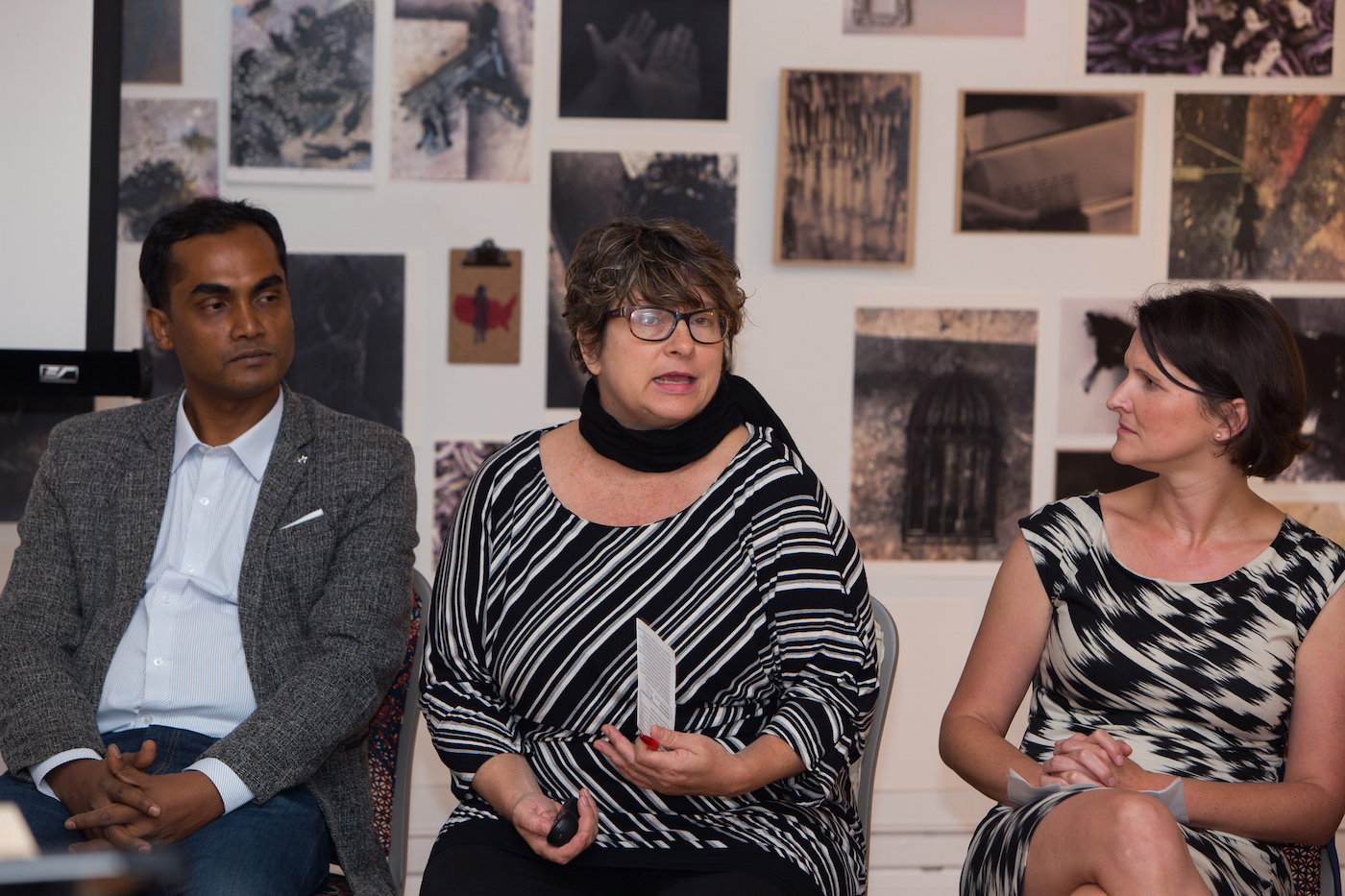 September 28, 2017
Professor Kathy M. Newman Wants You To Read Banned Books
By Daniel Hirsch djhirsch(through)andrew.cmu.edu
The Grapes of Wrath, The Color Purple, Ulysses, and Harry Potter and the Sorcerer's Stone all have at least two things in common. One, they're hugely important works of 20th century fiction. Two, they've all been banned.
As part of Banned Books Week, a national celebration of works that have been challenged or banned in various communities for various reasons, the Pittsburgh chapter of the ACLU hosted a panel featuring Associate Professor of English Kathy M. Newman earlier this month to discuss freedom of expression and why books get banned.
"Great authors challenge our ideas of what is acceptable," Newman said following the event. "They make us uncomfortable"
The American Library Association's Office for Intellectual Freedom maintains a running tally of banned and frequently challenged books. The list is remarkably long and filled with classics.
Books are most likely to end up on this list when a parent challenges the right of a school to require their child to read a particular book. Quite often a local school board will resolve the conflict, and, in some cases it will be in favor of the book. In more extreme cases, however, as in the children's book Heather Has Two Mommies or Allen Ginsberg's poem Howl, works of literature have become part of landmark First Amendment court cases.
Newman regularly teaches a class at Carnegie Mellon called "Censored Texts." In it, students read banned books and conduct primary research to investigate why a given book may have been challenged or censored. The Handmaid's Tale, A Wrinkle in Time, and Kindred all landed on her syllabus most recently.
"Once the students take the class they begin to realize that some challenges to controversial books have merit," Newman said. "The individual cases can be quite complicated, and my CMU students vacillate between relating to the parents' point of view and relating to the high school students and/or the teacher."
The Banned Books Week panel was jointly organized by the ACLU, City of Asylum, Casey Droege Cultural Productions, and the Allegheny County Bar Association Arts & Law Committee. The two other participants were ACLU staff attorney Sara Rose and Tuhin Das, a resident writer at City of Asylum.
Tuhin Das is a writer in exile from Bangladesh, where dozens of writers and bloggers have been brutally murdered, and where the Islamic fundamentalist groups known for murdering these writers have targeted Das. Local police and government officials have even colluded with such groups, forcing Das to flee his country. City of Asylum, as part of its mandate to offer refuge for endangered writers, is hosting Das as one of its ICORN writers-in-residence. Previously, Das was a visiting writer at the Department of English at Carnegie Mellon last year.
"I was honored to be on a panel with Tuhin Das and horrified to learn more about the violence and repression against dissident writers in Bangladesh," Newman said. "We have many more freedoms in the US than in Bangladesh, of course, but this is still a critical moment for the First Amendment."
For Newman, the current American political moment gives her renewed motivation to highlight our country's history of censorship and banning books.
"Do NFL players have the right to kneel during the national anthem? Do white supremacists have the right to rally in Charlottesville?" Newman asked. "Now more than ever we must protect the free speech rights of those we disagree with so as to preserve these rights for us all."
---
Above: The ACLU of Pittsburgh's Banned Books Week panel with (left to right) Tuhin Das, Kathy M. Newman, and Sara Rose. Photo credit Sean Carroll.