May 11, 2017
Students Honored at Writing Awards Ceremony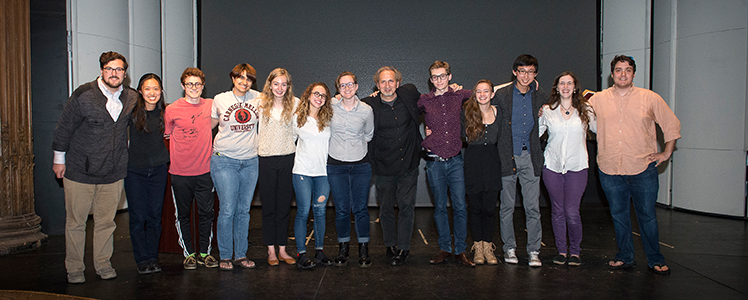 One way Carnegie Mellon University's Department of English highlights student excellence is through the annual Adamson Student Writing Awards. Winners are awarded in fiction, poetry, screenwriting and nonfiction and are selected by off-campus writers and honored during a formal ceremony.
"The Adamson Awards are a chance for our students to be judged objectively by professional writers. For many, it is the start of their writing careers as this is what they will do — submit their work and hope that someone engages positively with their work." said Sharon Dilworth, associate professor of English who co-organized  this year's awards with Assistant Professor of English Kevin González. 
One award in particular had special meaning for creative writing senior Charlie Rock: The Donna Grear Memorial Award. It is typically given to a student who reflects the late alumna's gift of poetry as well as her spirit of giving and caring for her community. For the first time, four students were recognized, and Rock was one of these students.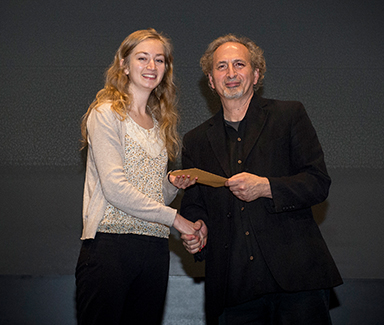 "I was definitely surprised when we were all called up to the stage," Rock said. "David Frank, Emmett Eldred, Andrea 'Ree' Sherwood and I have all been really close friends since freshman year, so it felt very special to stand up there and share the stage with them. It was certainly one of the highlights of my time here at CMU."
Distributing this year's awards was the winner of the 2016 Pulitzer Prize for Poetry, Peter Balakian. Prior to the awards ceremony, Balakian met with students and shared poetry that was influenced by the Armenian Genocide, an event that shaped his family's history.
 
"Balakian's reading reminded me of why we write poetry," said Alexandra George, a senior professional writing major who won multiple Adamson Awards. "Not only does it affect the culture in our current time, but it is part of a long cultural lineage. It was an honor to be recognized for my own contribution to this poetical heritage and to share the stage with Balakian for a few moments."
 
George placed first in the poetry category and was one of two winners to receive the Edythe and Leon Nagin Award for Best Senior Honors Thesis. George's winning pieces come from her Senior Honors Thesis, a collection of 50 poems exploring how memory, place, history and current events can form people's perceptions and shape thoughts and feelings.
 
"The student winners this year were some of the best students in the creative writing program — the students who dedicate themselves to the art of prose and poetry, the students who work hard at this difficult craft of writing," Dilworth said.
 
Sponsored by the Department of English, the Adamson Student Writing Awards have been presented since 1982 in honor of Pauline B. Adamson at the bequest of her husband, the late Clarence H. Adamson, as a testimonial to their marriage and her interest in the English Language and American Literature.
View photos from the ceremony. 
The 2017 Adamson Student Writing Award Winners
 
Poetry
 
1st Place: Alexandra George
Academy of American Poets Prize: Andrea Sherwood
2nd Place: Jennifer Bornemann
3rd Place: Hyunho Yoon
Carnegie Mellon University Press Prize: Isabel McCarthy
Honorable Mention: Naomi Sternstein
Honorable Mention: Katherine Huang
 
Nonfiction
 
1st Place: Juliana Schnerr, "Remembrance"
2nd Place: Emmett Eldred, "The Pacifist Despot"
3rd Place: Charlie Rock, "Gambier Smoke"
Honorable Mention: Gates Palissery, "To Be Bipolar"
Honorable Mention: Elizabeth Agyemang, "Representation: The Battleground of Black Urban Rebellion"
 
Fiction
 
1st Place: Hyunho Yoon, "Little Star"
2nd Place: Naomi Sternstein, "The Good Hurt"
3rd Place: Gabriel Bamforth, "Catch"
Honorable Mention: David Frank, "B'shert"
Honorable Mention: Sydney Roslin, "Chutes and Ladders"
 
Screenwriting
 
1st Place: David Frank, "Player Piano"
2nd Place: Emmett Eldred, "Operation: Judgement Day"
3rd Place: Charlie Rock, "The Director"
 
Edythe and Leon Nagin Award for Best Senior Honors Thesis
 
Alexandra George, "We Breathe In and Out of Ourselves"
Naomi Sternstein, "The Good Hurt"
 
Donna Grear Memorial Award
 
Emmett Eldred, David Frank, Charlie Rock, Andrea Sherwood
 
Charles C. Dawe Memorial Award
 
Maria Navarro, "H.E.A.R."
Sinead Foley, Ruth Scherr, Gowri Sunder, "Spark"
--
by Stefanie Johndrow
Pictured above: This year's Adamson Student Writing Award winners with Peter Balakian.
Pictured right: Alexandra George receiving her award from Peter Balakian.