December 01, 2016
Teaching Shakespeare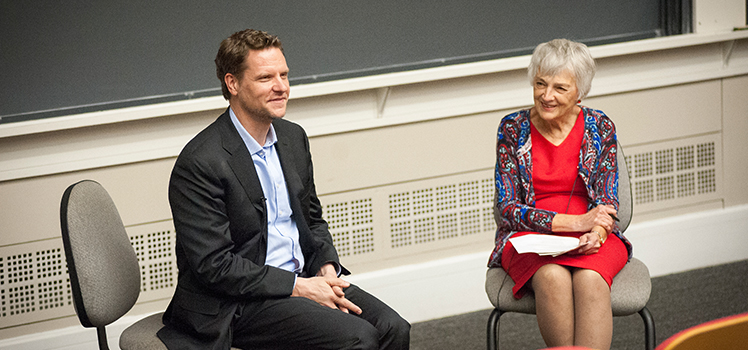 The morning of Nov. 4, English Professor Peggy Knapp was feeling grateful. Knapp, in her 47th year of teaching Shakespeare at Carnegie Mellon University, stood before her students in a discussion of "The Winter's Tale."
Knapp's students offered suggestions that supported the constant transformation of Shakespeare in their analysis of the play.
"My first experiences with teaching Shakespeare, I felt I was privileged, and this morning when I met my students, I felt that way also," said Knapp as she sat beside former CMU English Professor Michael Witmore later that day.
"Everybody thinks about 'The Winter's Tale' as a play about sexual misconduct or the lack of it, and in fact it's really about Leontes as a tyrant," Knapp said. "Just today, my Shakespeare class came up with two wonderful suggestions about 'The Winter's Tale.'"
Because "The Winter's Tale" is a story about forgiveness, one of Knapp's students saw it as a rendition of the Prodigal Son, while another said it's a story of the natural progression of the year- going through summer, fall, winter, and always coming back to spring.
"The second part of this privilege is just as important to me, and that's CMU's students. I'm talking every year about these important plays with students with this kind of verbal acuity and imagination is just a wonderful thing," Knapp said.
As Shakespeare is continuously woven throughout modern storylines, these ways of re-invention is where CMU faculty and students are being challenged and in some cases finding success with Shakespeare, even if it's just in the classroom.
As part of "Teaching Shakespeare," an event in celebration of the writer, Knapp and Witmore  discussed Shakespeare's legacy in modern times and on CMU's campus. The key point of this being Shakespeare's constant metamorphosis.
Witmore, director of the Folger Shakespeare Library, home to the world's largest collection of the writer's work, shared the teaching techniques he had used to push his students outside of their comfort zones.
"It's called 'the Patsy Cline method,'" Witmore said.
"Poetry was really meant to be spoken aloud. I would say [to students] tell your roommate to leave, download 'I Fall to Pieces' by Patsy Cline, and sing that song three times in a row at the top of your lungs. The third time you sing it, you're going to feel like Patsy," Witmore said.
The Patsy Cline method was Witmore's "go-for-it" method to encourage students to get comfortable with the syntax and emotion behind Shakespeare's plays.
Witmore and Knapp got to know one another and their dedications to the Bard. This shared passion lead to co-teaching lectures, the arrival of Shakespeare's First Folio to campus and the knowledge that teaching Shakespeare will always have its place at CMU.
"I think the staying power of Shakespeare has a draw for students into the humanities, and it's proved Peggy right," said English Professor Kristina Straub. "She's been a warrior, a sort of champion for Shakespeare."
"I know students from economics, computer science, all across campus, if they're going to take one literature class, it's going to be Shakespeare," Straub said.
Watch the "Teaching Shakespeare" discussion. 

View photos from the event.
--
by Stefanie Johndrow