June 22, 2016
Dietrich College Honors Staff at Annual Luncheon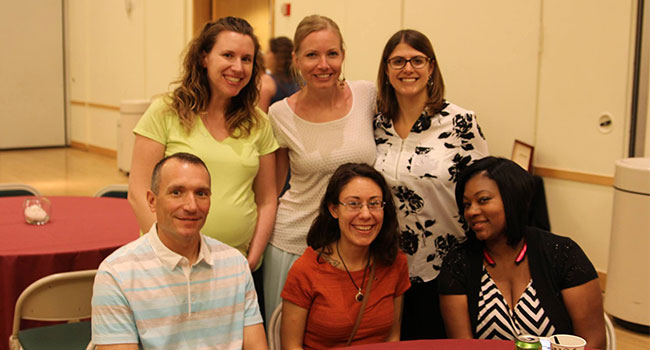 Carnegie Mellon University's Dietrich College of Humanities and Social Sciences boasts eight academic departments, including the English Department, and various programs and research centers, all staffed by a diverse pool of talented employees.
Seventy of these employees gathered in Rangos Hall on Monday, June 20 for the college's annual Staff Appreciation Luncheon. Karen Weingartner, administrative coordinator in the Dean's Office, organized the event.
Dean Richard Scheines honored staff for years of service, ranging from five to 35 years. Department of English Administrative Coordinator Eyona Bivins was honored for her 10 years of service and for being a member of the college's AIM Committee.
Read more about the luncheon and view photos from the event.
Photo: Department of English staff (from L-R) Beth Signarovitz, Jen Loughran, Amanda King, Brian Penak, Arianna Garofalo and Eyona Bivins at the Dietrich College Staff Appreciation Luncheon.