May 02, 2016
Students Get Hands-On Experience In New Media Within English Department
David Frank, a junior double majoring in Creative Writing and Professional Writing, aspires to be a filmmaker, but up until this semester, he didn't have any hands-on experience in the field. Now, the novice filmmaker has one short film under his belt that was created while in the English Department's new course, 'The Visual Story: Filmmaking for Screenwriters.'
Ralph Vituccio, assistant teaching professor in Carnegie Mellon University's Entertainment Technology Center, teaches the course. Vituccio has been a mainstay in the center where he has led a number of award-winning student interactive projects dealing with social issues, including a virtual reality experience about racial profiling that debuted at this year's Tribeca Film Festival.
'The Visual Story' has attracted many Creative Writing majors, such as Frank, but also English and Professional Writing majors as well as students from the Schools of Computer Science and Music. Vituccio was tasked with taking what was once a course offered to graduate students and turning it into a course digestible for undergraduates who needed to translate their creative story into a short film by semester's end.
"It's gone remarkably well for undergraduate students," said Frank. "I learned how to write visually, record voice overs and edit sound and video using Adobe Premiere Pro for the first time," said Frank whose film deals with a friend's experience with sexual assault.
In the course, students used their previously written scripts in the pre-requisite course, 'Survey of Forms: Screenwriting,' as blue prints for their visual stories.
"One of the things beginning screenwriters struggle with is the visual element of storytelling," said Creative Writing Program Director and English Professor Sharon Dilworth. "They're more used to writing fiction, poetry and essays and the image-driven narrative takes some time for them to master. Ralph's course helps them with this element of screenwriting."  
Vituccio, an independent filmmaker himself, did this by educating students on how space, tone, color and other elements are used to tell a story. He screened short films and students had access to guest speakers, such as Academy Award nominated actor and Entertainment Technology Center Visiting Scholar Michael Keaton. Vituccio gave out shooting assignments where students had to film examples of different space and composition principles, such as "the rule of thirds" and shot a scene from one group's storyboard.
He also launched the course, 'Mediated Narrative,' in the English Department this semester, which explored interactive forms of narrative as they've evolved from traditional storytelling to complex storytelling. This Integrative Design, Arts, and Technology Network course covered a wide range of narrative from narration in fiction film to interactive graphic novels and games to virtual reality.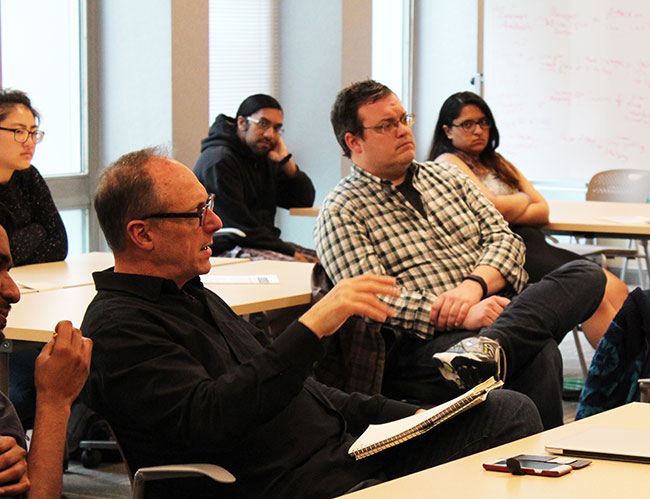 "We are all story telling animals," said Vituccio. "It's how we as humans learn about the world and who we are. Stories engage us, they spark our creativity, imagination and curiosity."
Vituccio added that now, stories are not limited to just one page of text and can contain other forms of media.
"We have to think about how the many manifestations of media such as text, visuals, soundscapes, agency, interactivity and data can effectively be threaded together and interact with one other," he said.
The 30 students in the course demonstrated this by creating an interactive story for their final project. One group created a game addressing CMU's stress culture that could be played on YouTube. Another group created a chatbot that's used to promote the 1998 movie, "Run Lola Run."
"We collected clips from the movie and have the chatbot set up so that as the user talks to the chatbot, certain keywords trigger a clip or memory, so that the user can explore parts of the movie and potentially form their own narrative," said Anne-Sophie Kim, a junior double majoring in Human-Computer Interaction and Professional Writing. "It's not supposed to recreate the movie itself, but give the user a glimpse of the plot."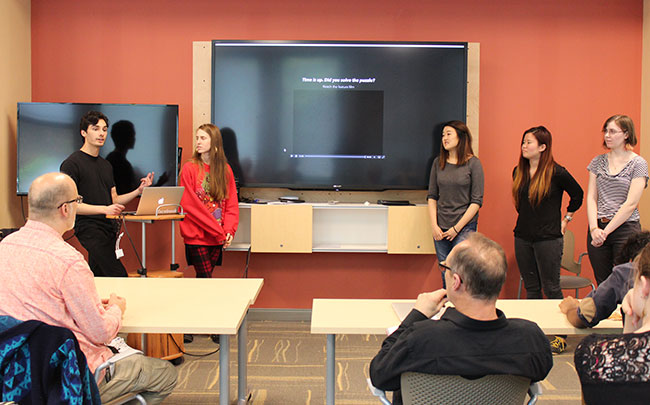 Through the course, Kim said she learned about narrative theory as well as interactive experiences and how they can contribute to an audience's perception of narrative.
"The course gets you to think critically about stories and experiences you encounter every day," she said. "The class seemed to bridge the humanities with the arts and technology."
According to Vituccio, 'The Visual Story: Filmmaking for Screenwriters' and 'Mediated Narrative' are likely to return spring 2017. Students interested in taking 'The Visual Story' are required to enroll in 'Survey of Forms: Screenwriting' in the fall.
__
By Amanda King
Bottom Photo: A group of students within the course 'Mediated Narrative,' which is now housed in the English Department, present their final project, a "chatbot" to their class. John Dessler from CMU's Entertainment Technology Center was also in the audience to critque their work and provide feedback.
Share: