March 28, 2016
Colloquium Offers Inside Look at LCS Faculty Work In Progress
At a recent literary and cultural studies (LCS) colloquium, English Professor Peggy Knapp encouraged graduate students to be patient with their developing work. Knapp has certainly been patient with the essay she's currently working on, allowing for it to develop over the course of several years. 
Knapp along with Marian Aguiar, associate professor of English, presented their current work at the colloquium titled "Working Papers," which is hosted at the start of each semester and features work in progress by LCS faculty and friends of the program.
"It's designed to help graduate students see more clearly the process of writing and revision that happens on a faculty level," said LCS Colloquium Committee and LCS Ph.D. student Natalie Suzelis.
The committee is comprised of seven members and director and English Professor Jeff Williams. Committee member and LCS Ph.D. student, Jacob Goessling, was inspired by the Birmingham Centre for Contemporary Cultural Studies' collaborative 'Working Paper' model and wanted to bring a similar model to Carnegie Mellon.
Before the start of the most recent "Working Papers," faculty and students were asked to read a chapter from Aguiar's forthcoming book. During her presentation, she shared her methods in writing her book, "Arranged Marriage: The Subject of Agency in the South Asian Diaspora," which developed from her observation that, far from dying out in this period of globalization, arranged marriage has continued to thrive and even generate significant new interest.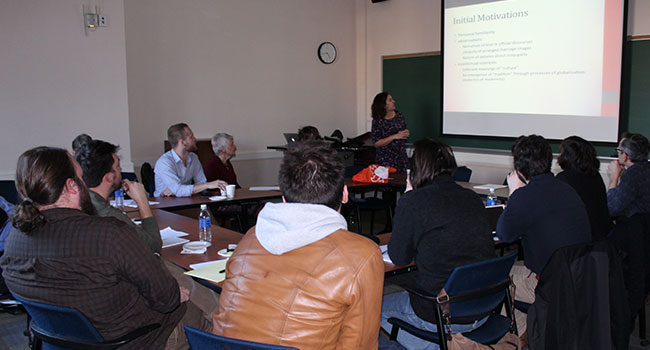 She also discussed the challenge of taking on new fields during the process including feminism and legal studies.
"It's nice to see different methods for approaching the writing and publishing process," said Suzelis. "At the previous 'Working Papers,' it was helpful that we actually got to hear faculty responding to each other's work and giving pointers the same way that we would in our workshops."
Knapp's work in progress depicts a dialogue between Roman philosopher Lucretius's first-century B.C. poem, "De Rerum Natura," and Shakespeare's play, "Measure for Measure," which was written in 1604.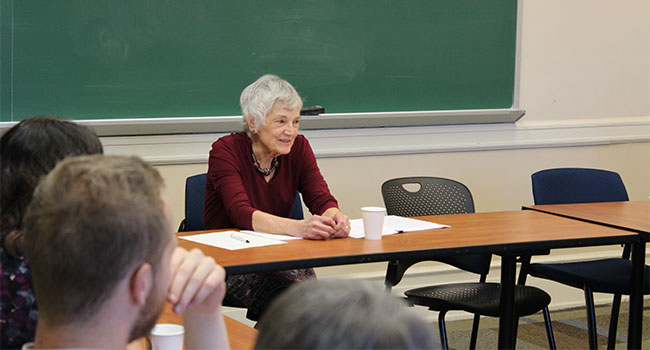 Knapp explained to the audience how her project originated as a paper for a Shakespeare Association of America conference as well as the problems she's faced since she began working on the paper.
Afterwards, students had an opportunity to ask the scholars questions about their respective writing projects and comment on the presentations.
"It was helpful to hear the genesis of an idea from Peggy," said Goessling.
Since Ph.D. students are expected to go to conferences and present papers, as well as get a head start on writing theory-based books, Suzelis said it was it beneficial to have Knapp's presentation on a conference paper and Aguiar's discussion on her book.
"It's nice to see someone start off with ideas that are all across the board, and figure out how to synthesize them and get them into one argument. That's probably the hardest part about approaching the dissertation," she said.
The LCS colloquium series continues on April 11 with a lecture by author Michael Clune. Learn more about the event.
Related:

LCS Colloquium Series: Film in the New Age of Media
LCS Colloquium Features Archival Research Panel
__
By Amanda King
Share: