May 16, 2016
Graduates Urged To Put Their Hearts Into Their Work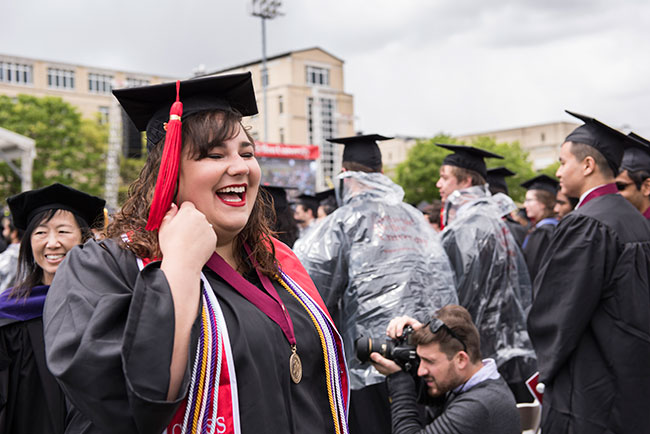 "Do the unimagined. Discover the undiscoverable. Change the world — responsibly."

Reciting those words, more than 5,000 graduates at Carnegie Mellon University's 119th Commencement ceremony Sunday joined social historian and keynote speaker Earl Lewis in pledging to use their educations actively, throughout their lives, to the benefit of others. That theme sounded throughout the ceremony, as speakers challenged the  graduates to keep kindness, curiosity, respect, optimism and wide-eyed wonder in their hearts as they leave the university to make their mark in the world.

"'My heart is in the work' doesn't tell us to dedicate our hearts to work," said Student Speaker Sophie Zucker, of the famous words by CMU's founder Andrew Carnegie. "It's a promise to bring heart into work. To do the things we do with heart, with passion and with care."

Zucker, who earned bachelor's degrees in chemistry and creative writing, told the graduates on the chilly day, that they "have an obligation to do things that matter."