February 22, 2016
Professional Writing Major Studies Abroad Via English Department Program
Elizabeth Agyemang, a junior double majoring in fine arts and professional writing, was selected as the 2016 winner of the English department's Cohon Travel Award, a $1,000 grant to help defer the cost of studying abroad at Sheffield Hallam University (SHU) in England. Agyemang is currently studying at SHU through the English department's study abroad program. We recently asked her about her experience at Sheffield Hallam.
What classes are you taking at Sheffield Hallam University?
I'm taking three classes: 'Professional Film Writing,' which focuses on writing editorials, reviews, profiles and event coverage within the context of film; 'In Darkest England: Fiction at Work 1880-1915,' which looks at 1800s British literature and examines the historical context in which these works were written; and 'Novel,' which focuses on writing concepts and the process of drafting a manuscript.
What do you enjoy about the creative writing exchange program?
The amount of breathing room I receive. The program gives you space to explore what you know, what you think you know and don't know about writing. It has made me love writing even more because I have the time and space to dig into my work in a meaningful way.

What have you learned so far in your classes at SHU?
I've re-learned what it means to engage with texts in both a theoretical space and a practical one. In my 'Professional Film Writing' class, our professor invited industry veteran, Tony Earnshaw, to speak about his career in film journalism. Having just finished an assignment writing film reviews and seeing Earnshaw, the Yorkshire Posts' film critic, speak about his process and the various aspects of his journalism career really p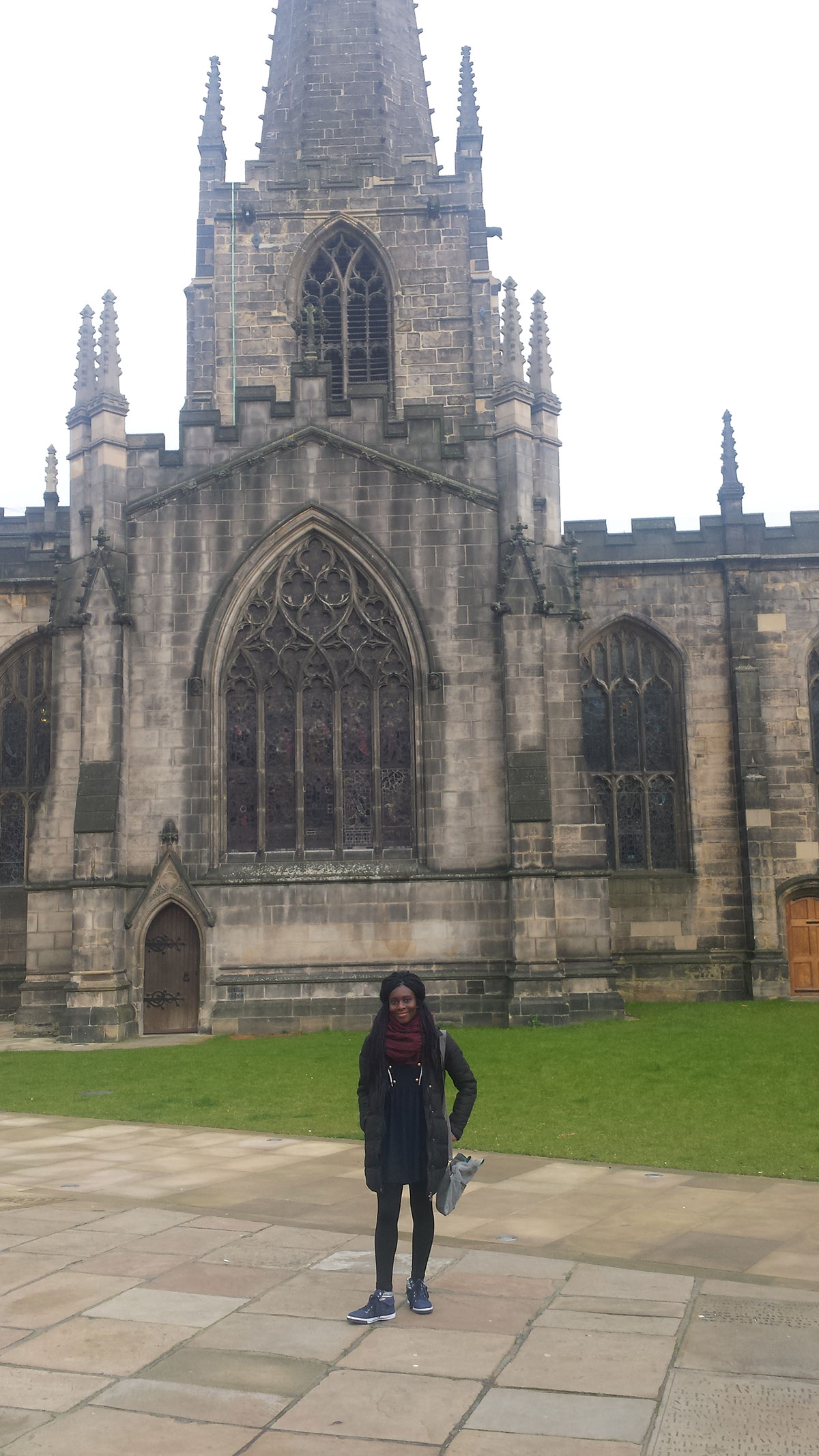 ut into perspective that what we learn at the university can be applied in the "real world."

What is challenging about studying at Sheffield Hallam?
The most challenging aspect is being abroad. It's difficult to go to a new environment and carve out a space for yourself, where at home, you may have never had to do before. I've learned to get comfortable being uncomfortable and I've become more confident because of it. 

What advice do you have for students who want to study abroad at SHU?
If you're thinking about studying abroad at SHU, I would recommend it. The campus is beautiful, the city, Sheffield, is filled with a lot to do and everyone is so kind.
More than that though, it is the classes and the professors who have made my experience so great. I was hesitant about studying abroad because one of my favorite aspects about Carnegie Mellon University is my fine arts and professional writing professors. They have inspired me and made my CMU experience exciting because of the strong passion they have for their work and for their students. Having a professor who is excited about what they do and what I'm doing just makes the experience of spending hours, days and nights on art pieces and papers really meaningful. However, there are a lot of passionate professors at SHU as well. It shows in the assignments we are given and the work we produce.
__
Learn more about studying abroad at Sheffield Hallam University.
Related Articles:

Professional and Creative Writing Major Studies in United Kingdom Through Creative Writing Exchange Program
UK Student Studies Creative Writing Abroad at Carnegie Mellon
__
By Amanda King
Photo: Elizabeth Agyemang, a junior double majoring in fine arts and professional writing, stands in front of Sheffield Cathedral.