May 20, 2016
Congratulations, Class of 2016!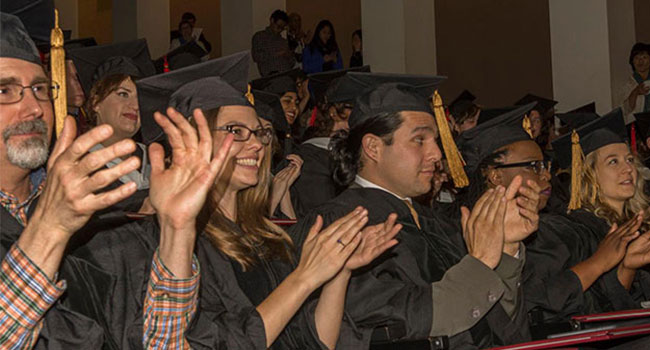 Rigorous, comprehensive, challenging, intensive, cosmopolitan. These adjectives are what Carnegie Mellon University's Andreea Deciu Ritivoi used to describe the English Department's Class of 2016's education that she said has prepared graduates to address the issues of the world and help change it.

Reflections like this one, along with advice from Ritivoi and student speakers, echoed throughout the English Department's Diploma Ceremony on May 14 in McConomy Auditorium.
Addressing approximately 350 family members and friends of the graduates, as well as department faculty and staff, Ritivoi, the English Department's head and professor, brought attention to the graduate's interdisciplinary studies.
"Family and friends of our graduates, please take a look at our program and notice how many of our students are double majoring and minoring across fields, departments and colleges," she said. "Notice their intellectual reach, versatility and ambition. You knew they could do it, but did you know they do it all?"
Ritivoi added that this year's class includes a Fulbright awardee and Luce Scholarship winner.
Student speakers from each of the Department's programs shared with the audience what they learned from their time at Carnegie Mellon. 
"If the Rhetoric program has taught me anything, it's that every word exists for a reason," said Sarah Katz who spoke on behalf of the Master of Arts in Rhetoric Program. "Words are powerful and their consequences can be huge."
Jacqueline M. James said she's leaving CMU as a stronger writer.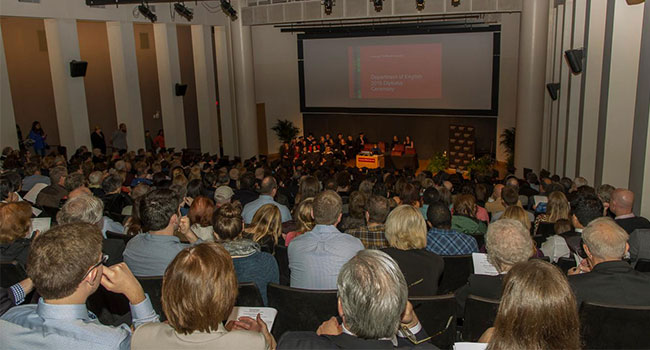 "My time at Carnegie Mellon has not only taught me to accept criticism of my writing, but to also reject it," said James, who received bachelor's degrees in creative writing and professional writing.
Laura Scherb, a graduate of the Creative Writing Program, said its writing lounge, known as "The Glad" is what made her feel like she fit in within the Department.
"It's like no other place at Carnegie Mellon and that seems fitting considering this Department isn't either," she said. "This department is warm and welcoming, quirky and quant, and it's filled with the most wonderful people who have ever put pen to page."
Yin Zheng, who received a master's degree in professional writing in December, told the audience where herself and fellow alumni are now—working at noteworthy companies, such as IBM, Oracle and Salesforce.
Salesforce's newest Associate Technical Writer will be Brian Trimboli, who earned bachelor's degrees in technical writing and communication and English. In his speech, he discussed how combining the degrees helped him land his job.
"Although I'll be using my technical writing degree more directly than my English degree, the thing about having an English degree, is that you're always using it no matter where you take it," he said. "My coursework has taught me how to look at situations from perspectives other than my own and how to draw conclusions based on cultural and historical contexts."
Thatcher Montgomery encouraged his fellow classmates to make an impact in their field.
"Technical writers can help communicate the sciences and bridge the gap between the humanities and sciences," said Montgomery, who received a bachelor's degree in technical writing and communication.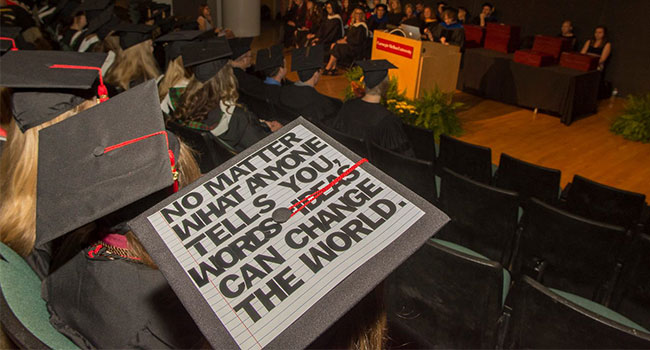 Robyn Rowley expressed her gratitude for the Literary and Cultural Studies faculty, as well as her colleagues in the graduating master's cohort.
"I thank you for being a part of my journey, for your friendship and for inspiring my scholarship," said Rowley. "What a stroke of luck to be among you and to be graduating with you today."
The Class of 2016 is the largest group of doctoral students to graduate from the Department. This year's class of 105 Department of English graduates includes:

View photos from the 2016 English Department Diploma Ceremony and Reception.
Read the CMU Commencement Ceremony recap.
Related Articles:

__
By: Amanda King
Share: