June 24, 2016
Chris Warren Completes Ireland Fellowship Dedicated To Digital Humanities Project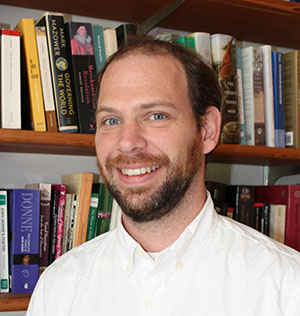 Associate Professor of English Christopher N. Warren recently completed a month-long fellowship at the National University of Ireland (NUI) Galway, where he worked on a new digital humanities project called "Distant Reading the 'Oxford Dictionary of National Biography (ODNB).'" Warren was one of seven May 2016 Moore Institute Visiting Fellows.
Fellows have the opportunity to interact with the college, city and region's research community and benefit from working with various rich collections within the university's James Hardiman Library.
"There's something incredible about having a new space in which to explore new ideas," said Warren, co-creator of the groundbreaking digital humanities project "Six Degrees of Francis Bacon." "I've felt that I'm on the verge of an exciting, new project and it was fitting to be in an exciting, new place to help facilitate the journey of exploration."
Warren's project is an exploratory "distant reading" of the "ODNB," a 62-million word biographical dictionary that Warren calls "an incredibly rich resource." It's a national record of men and women who have shaped British history and culture from the Romans to the 21st century.
Distant reading, or studying corpora with the assistance of computers, will allow Warren to find out what a large, authoritative body of historical writing can tell us about a nation. The dictionary he will be analyzing is in a richly marked-up digital format, which means you can ask it all kinds of fascinating questions using computational methods.
"I'm interested in testing some of the most enduring stories about Britain—about class, empire, Christianity and secularization," said Warren. "What has it meant, over the very long term, to be English, Scottish, Irish and Welsh? Do historians write biographies differently when the subject is a woman or a man? We can slice and dice this data in so many interesting ways, it's really astonishing."
During his fellowship, Warren had the opportunity to think about the on-going project's outcomes. He said he hopes to create an edited collection that will be the result of inviting scholars to investigate the data. Once he has more findings from his project, he'll also collaborate with designers to help others study and explore the data in a visual, new way. Finally, Warren hopes to author a book that will include writing about his own relationship to the "ODNB."
"As a mixed-heritage American literary scholar studying British history and culture from across an ocean, I can't help but approach the 'ODNB' from a distance," he said. "British history and culture can look very different depending on one's proximity to Britain, and like the majority of the project's global Anglophone audience, I'm ultimately an interested, but implicated outsider."
The Galway University Foundation, the James Hardiman Library and the NUI, Galway College of Arts, Social Sciences, and Celtic Studies support The Moore Institute Visiting Fellowships.
Learn more about Warren's work
___
By Amanda King
Share: