February 17, 2016
Meet The Wall Street Journal's Newest Copy Editor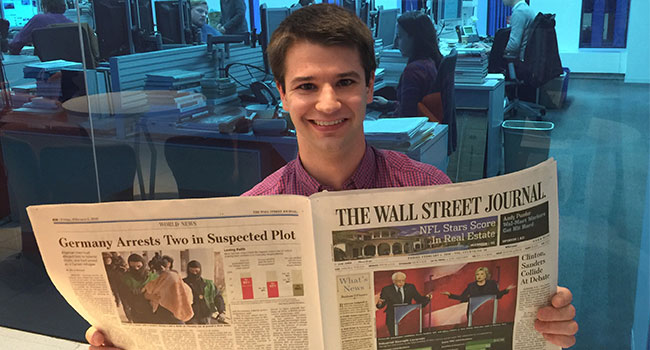 While Braden Kelner was working towards his bachelor's degree in creative writing and professional writing at Carnegie Mellon University, he had his heart set on one thing—working in journalism.  
A private equity editorial internship at Dow Jones, a passion for journalism and being digital savvy would soon help turn his dream into reality. Recently, Kelner (CW,PW'15) landed a copy editor position at Dow Jones, which owns The Wall Street Journal and other financial news publications for consumers and corporate and financial clients.
He recently started his new job where he edits the company's monthly publication—the "Private Equity Analyst," its Private Equity and Venture Capital online news website and The Wall Street Journal blog, Private Equity Beat. He is also a reporter for Private Equity and Venture Capital and has written on topics from business acquisition to transactions involving some of the world's leading private asset management firms, such as Bain Capital.
Kelner said the position is a good fit for his journalism passion that he discovered in CMU's English department.
"I was able to focus on journalism while I studied in CMU's professional writing program," he said. "I found that I liked reporting, but what I really liked was copy editing. This job really allows me to do both of those."
Laura Kreutzer, assistant managing editor of Private Equity and Kelner's supervisor, said what made him stand out from the rest of the job applicants was his willingness to jump right into projects and pitch creative ideas during his internship.
"We've been and continue to be impressed with Braden and how quickly he is coming up to speed on a fairly complex corner of the capital markets. It's one of the better hiring decisions I've made," she said.
Kreutzer added, "We have a pretty high bar set here. It's very unusual to hire someone right out of college for this position."
During his senior year at CMU, Kelner was the editor-in-chief of the student newspaper, The Tartan. He previously interned in Dow Jones' customer service department, at the Bucks County Courier Times just outside Philadelphia and at the Pittsburgh Post-Gazette, where he wrote articles for the newspaper's energy and business sections.
"Students interested in journalism can take a page from Braden's playbook. Write for The Tartan and earn a position of leadership," said Necia Werner, assistant teaching professor of English and director of the Undergraduate Professional Writing and Technical Writing Programs. "Take all the journalism classes that English has to offer, many of which are taught by working journalists. Network. Intern. Repeat."
Kelner also credits a science article writing exercise that was assigned in the course 'Introduction to Professional & Technical Writing' for helping him realize he wanted to go into a field where he could take difficult concepts and turn them into a story that's easy to understand. 'Style' with English Professor Barbara Johnstone also helped Kelner develop a strong foundation of writing skills that he uses on the job daily.
___
By Amanda King
Do you have alumni news you'd like to share? Let us know.
Photo: Braden Kelner, a creative writing and professional writing alumnus, is now a copy editor at the Wall Street Journal.