May 04, 2016
Grey's Anatomy: Alumna's Heart Is In the Work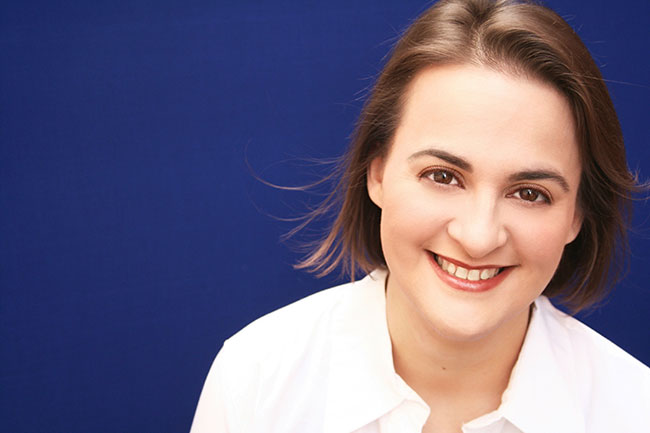 It's been over a decade since Carnegie Mellon University alumna Elisabeth Finch graduated, yet she continues to live and breathe the university's motto, "My heart is in the work."
Finch (DC'00), who majored in creative writing and professional writing and minored in drama, is constantly working in various Hollywood writing roles. She's a writer for "Grey's Anatomy" and between seasons, Finch periodically works with IAMA Theatre Company writing one-act plays for the company's 23 Hour Plays Fest and IAMAFest. She also (somehow) finds time to volunteer for Project Angel Food, a nonprofit that provides food to those struggling with illness.
This hectic schedule is nothing new to Finch. Four years ago, she was writing for "The Vampire Diaries" when she was diagnosed with cancer. She continued to write for the show during her chemotherapy treatments.
"Finch came to 'The Vampire Diaries' from a stint on 'True Blood,' and we were all envious of her connection to the 'cool' HBO vampire show," said "The Vampire Diaries" Executive Producer Julie Plec. "She immediately became close friends with everyone on the writing staff and could always be counted on for a great Damon Salvatore line or the perfect emotional moment. She's a lovely partner in crime."
When Finch's contract ended at "The Vampire Diaries," she said the diagnosis changed the type of stories she was interested in telling.
"I had been telling six years worth of vampire stories and I needed a shift," said Finch. "I don't know if that would have happened at the exact same time if I wasn't sick. Now, being at Grey's, a show that deals with doctors, medicine and people having life and near-death experiences, there have been moments where it really has keyed into my own personal experience."
Writing has always been Finch's dream. What attracted her to Carnegie Mellon's Creative Writing and Professional Writing Programs were its intense workshops and writing courses.
"By the time I got into a TV writer's room, it felt so similar to the intense workshops I had at Carnegie Mellon," she said. "The workshops prepared me in terms of how to be a really tough critic of myself and to look at other's work critically and thoughtfully."
English Professor Jane Bernstein led Finch's 'Autobiography Workshop.'
"Elisabeth was a really good writer, but she was also disciplined, hard-working and had great stamina—qualities that are essential to having the kinds of successes she's had," said Bernstein.
Reflecting more on her time in the program, Finch said she values how much her academic adviser Jim Daniels, the Thomas Stockham Baker University Professor of English, supported her other passion for playwriting, helping her combine classes from CMU's School of Drama. She also sees the impact that former CMU Vice Provost for Education Indira Nair's 'Science, Technology and the Environment' course has on her writing now at "Grey's Anatomy."
"She really helped me develop a language for translating complicated medical techniques into a more common language," said Finch, who is also currently working on a memoir about her battle with cancer.
__
By Amanda King
Do you have alumni news you'd like to share? Let us know.
Photo Credit: Maia Rosenfeld
Share: