November 15, 2016
Rhetoric, LCS Students Win Teaching Award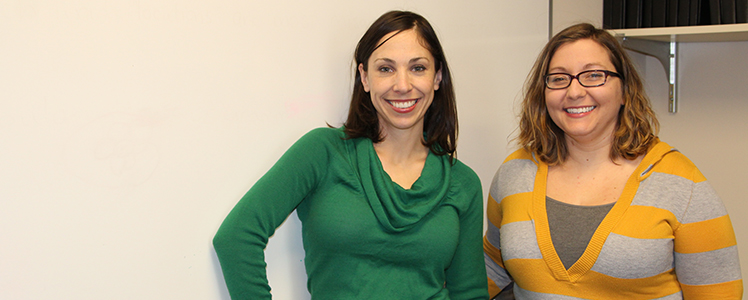 Two PhD students can add the 2016 English Department Graduate Student Teaching Award to their resumes. Rhetoric student Mary Glavan and Literary and Cultural Studies student Juliann Reineke are taking home this fall's award.
Nominations are given by faculty and fellow graduate students followed by an application process which is reviewed by the Graduate Committee, which also observes and reports on a class. 
CMU English recently sat down with Glavan and Reineke to get to know the award winners.
"Providing students with accessible opportunities to learn is at the heart of both my research and teaching," Glavan said. "My research bridges rhetorical theory, writing studies and disability rhetoric to consider how ordinary people with varying abilities take rhetorical action in the situations that matter to them. My teaching aims to create classroom environments that are accessible, inclusive and adaptive." 
At CMU, Glavan has had the opportunity to teach students ranging from first year English language learners to masters students in robotics. She is completing her PhD in Rhetoric and holds a master's in Rhetoric from CMU English. She received her bachelor's degree in English Literature from Saint Cloud State University.
Reineke specializes in 18th century British literature and culture.
"Specifically, I study how representations of sailors in songs, plays, images, and novels contributed to a new type of British masculinity that shapes how we view sailors today," Reineke said. "My research influenced my fall 2015 course, Pirates and Prostitutes in the 18th Century."
Currently, Reineke teaches at the Global Communication Center Tutoring Practicum, in which she takes a research-based approach to help new tutors refine their tutoring skills and be able to help clients from every discipline on campus. Next semester, Reineke will teach an English 101 course that investigates debates surrounding Marvel's universe, and we will use those arguments as a springboard for students to craft their own research.  
Related:
Carolyn Commer and Ana Cooke Win Graduate Student Teaching Award
Photo: Mary Glavan, left, and Juliann Reineke, right, were the recipients of the 2016 English Department Graduate Student Teaching Award.