March 02, 2015
English Majors Train in Technology, the Arts through IDeATe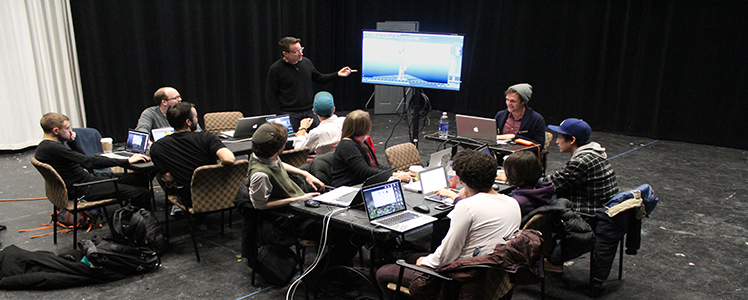 This semester, undergraduate student Steve Epple is investigating the merging of live performance with digital technology in his Mediated Reality course. Undergrad, Eleanor Haglund, is learning about entrepreneurship. Haglund, however, is not a business major as one might think. And, Epple is not a drama major, nor a media design major.
Epple and Haglund are both English majors who decided to minor in the Integrative Design, Arts, Technology Network (IDeATe).
IDeATe launched in 2014 to give all Carnegie Mellon students an opportunity to expand their studies in interdisciplinary ways in order to enhance their primary majors.
Students can choose from eight concentration areas, all of which can be taken as minors. The themes of each area integrate knowledge in technology and arts: from game design to entrepreneurship for creative industries to physical computing.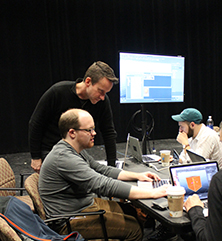 Epple chose to become a Media Design minor because he's interested in how literature is circulated through digital media and wanted firsthand experience of producing digital media.
"I am interested in studying how new media affects the production, distribution and reception of writing," said Epple. "Digital media allows for previously impossible ways of experiencing literature. I want to both create these experiences through media design and study how literature is evolving in the digital age."
In his Mediated Reality course, Epple will develop augmented reality media projects with a focus on producing work that is community conscious.
Later this semester, he will work on technology projects ranging from capturing a live performance using both stereoscopic HD camera systems and a Kinect-based motion tracker to create a 3D object using software.
Meanwhile, Creative Writing major, Eleanor Haglund, is minoring in IDeATe with a focus on Entrepreneurship in Creative Industries.
Haglund chose to minor in IDeATe because she plans on working as a marketer for a start-up business– fusing her strength in writing with her love of startups.
"Entrepreneurship interests me because startups are agile enough that they can make real change in the lives of their customers," said Haglund. "Entrepreneurship is a way of creating solutions that address the needs that the industries have previously overlooked."
Haglund has taken two IDeATe courses, Introduction to Computing for Creative Practices; and New Venture Creation, both of which have taught her how to communicate technical projects – a must for any start-up marketer. In New Venture Creation, students learn how to finance new ventures, get them started legally and market their products or services.
Haglund and Epple both agree other English majors would benefit from minoring in IDeATe.
"If English majors are interested in interdisciplinary projects and learning, they should consider IDeATe," said Haglund. "Meeting the people in the program was a great experience and I am glad to have participated."
"Other students in English should consider IDeATe because books are not printed as much anymore," said Epple. "The texts that we study and produce are increasingly online and digital. There are also so many opportunities to experiment with new forms of literature."
English Department faculty members were also involved in creating two IDeATe courses. Suguru Ishizaki, rhetoric director and associate professor of English, along with Jodi Forlizzi, Professor of Design and Human Computer Interaction and Stacie Rorbach, associate professor of studio and seminar-based communication design collaborated to create the Information Design course, which focuses on teaching a basic visual design process from start to finish.
Professors of English, David Kaufer and Andreea Deciu Ritivoi, along with Ralph Vittucio, assistant teaching professor of the Entertainment Technology Center, helped create the course, Mediated Narrative, with help from Jennifer Keating-Miller, CMU's assistant director of undergraduate research and national fellowships and Kevin González, assistant professor of English. The course launches spring 2016 and is designed to expose students to a wide range of multidisciplinary perspectives of narrative.
"The course will help students understand the historical, linguistic, and literary foundations of narrative that have been a centerpiece for centuries in the humanist tradition," said Kaufer.
Kaufer said the course will span these traditional foundations and the recent digital revolution in narrative that has brought narrative into user-controlled, virtual learning environments and online games.
Learn more about IDeATe courses here. If you are an English major interested in minoring in IDeATe, contact Kelly Delaney.
Top photo, IDeATe Mediated Reality course. Bottom Photo: Stephen Epple working in the Mediated Reality course. Photos by Lindsay Corry.