August 24, 2015
MA in LCS Alum's First Book Examines 1950s Nostalgia
Master of Arts in Literary and Cultural Studies Alum Michael Dwyer's first book "Back to the Fifties: Nostalgia, Hollywood Film and Popular Music of the Seventies and Eighties" is not your usual coffee table read looking at 1950s nostalgia.
Instead, Dwyer (LCS'03) said he examines how "the Fifties" was a vision of America circulated through film and popular music of the 1970s and 1980s.
According to Dwyer, "films like "American Graffiti" or "Back to the Future," the rise of Oldies radio, revival concerts, or music videos like "Thriller" and "Material Girl" are all examples of this trend. It's clear that especially in the U.S. in the 1970s and 1980s, there was a very intense cultural fascination with the Fifties."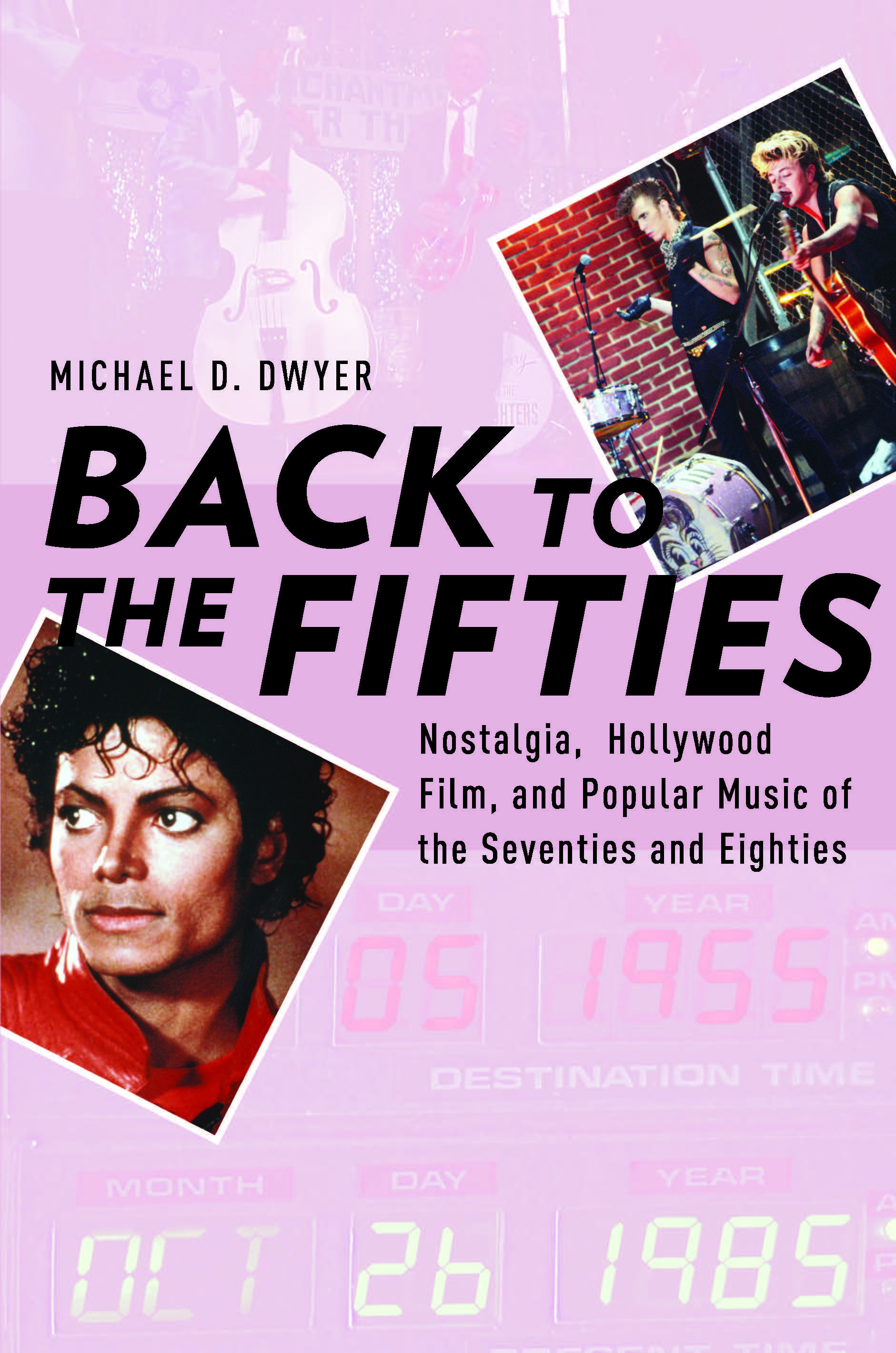 Published by Oxford University Press, Dwyer's book offers a fresh perspective to the evaluation of nostalgia.
"Professor Dwyer's book, "Back to the Fifties," is a well-written and engaging book about the explosion of films and musical revival acts in the Reagan era that looked back and "fixed" our memory of the 1950s," said Kathy Newman, associate professor of English and one of Dwyer's former mentors. "Dwyer argues, against the grain, that not all of these nostalgic text, films like "Grease" and music like the 1950s revival group Sha Na Na and Michael Jackson's "Thriller," served conservative political ends. Instead, Dwyer argues, that in 1970s and 1980s nostalgia for the postwar era we can see struggles over class, gender, racial, and sexual identity, as well as struggles over what it meant to be an American.
How the MA in LCS Program Influenced Dwyer's Work
After CMU, Dwyer went on to earn his Ph.D. from Syracuse University. He is now the associate professor of Media and Communication at Arcadia University in Glenside, Pennsylvania. Dwyer said he owes much of his career as an academic and a scholar to his short time at Carnegie Mellon.
"I showed up as a 22-year-old who liked to think about culture and art and philosophy and politics and history, but I didn't have any clear sense of how to think about those things together," said Dwyer. "The MA in LCS program helped me to understand how the methodologies of cultural studies could help us understand the connections between culture, history, and politics."
Dwyer said building those connections is something he tried to continue in his new book.
"I am pleased to see the influence of our Literary and Cultural Studies program here at CMU in Dwyer's book," said Newman. ""Back to the Fifties" exemplifies the best of what we expect cultural studies to do: explain to us how culture works, and how cultural texts reflect and shape the political ideas of the eras in which they are produced."
Dwyer's work has also appeared in chapters to the anthologies "Singing for Themselves: Essays on Women in Popular Music" and "The 1980s: A Critical and Transitional Decade" and in publications/projects including "Alphaville," FLOW, and In Media Res.
Pick up a copy of Dwyer's book here.
___
By Amanda King
Do you have alumni news you'd like to share? Let us know.