May 06, 2015
14 English Department Majors Presented at CMU Research Symposium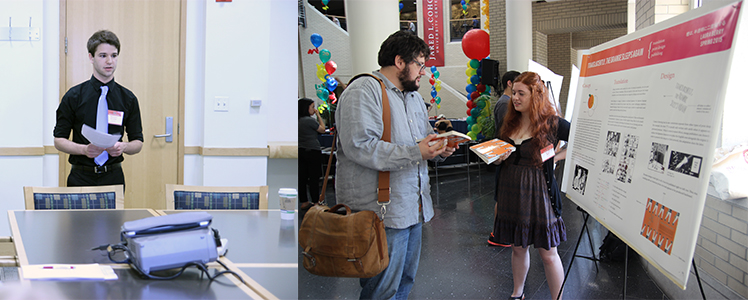 14 students from the English Department presented their research at the "Meeting of the Minds" on Wednesday, May 6, 2015. The "Meeting of the Minds" is an opportunity for students from all disciplines to share their research with the entire campus community.
"Undergraduate research gives students the chance to develop deep knowledge of their field," said Chris Neuwirth, English Department head. "I'm delighted that so many students from the English Department shared their research with the wider university community in "Meeting of the Minds" because it gives us a chance to showcase the rigorous scholarship and outstanding art that our majors produce."
Students choose how they want to present their project: an oral presentation, designing a poster, displaying their art, or presenting a live performance. And, for the competitive types, they can register for one of the symposium's Special Competitions and compete for cash prizes.
All English Department faculty, students, and staff were invited to see the work of the English Department students and work from other disciplines across campus and to celebrate the 20th anniversary of the "Meeting of the Minds." The event was free and took place in the Cohon University Center from 10:00 a.m. until 5:00 p.m.
Over 450 students registered to present. Congratulations to the students of the English Department who presented (in order of appearance):

Braden Kelner
Vanessa Branch
Laura Berry
Von Wise
Jacqueline James
Elana Goldberg
Katherine Thomas
Laura Paik
Dhruva Krishna
Jasmine Xie
Marisa Breitfeller
Christopher Sickler
Chloe Lula
Michael Mingo
The Undergraduate Research Office funded these student projects that were presented at the 2015 "Meeting of the Minds":
Laura Berry: "Translucently, the Orange Sleeps Again"
Christina Calvin: "Not Yet: Stories of Young Women at High Risk for Breast and Ovarian Cancer"
Laura Caton: "PowerPoint Visuals in the Humanties"
Elana Goldberg: "Accidental Catfish: A Short Film"
Read abstracts from the students who participated in the Senior Honors Program and presented at "Meeting of the Minds."
Learn more about Meeting of the Minds.
By: Amanda King
Photo: Braden Kelner, a double major in professional writing and creative writing presents his project, "What Keeps Us Going: An Exploration of Experiences at the East End Cooperative Ministry." Creative writing major Laura Berry presents her project, "Translucently, the Orange Sleeps Again."