May 15, 2015
Meeting of the Minds Turns 20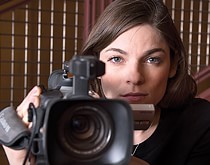 Thanksgiving break during her sophomore year at Carnegie Mellon,
Abby Botnick
sits in a movie theater with her younger sister. And she's furious. She's watching "Step Up Revolution," a movie about a dance troupe that is protesting the commercialization of Miami by dancing on its buildings.
"I love the dancing, but I hate the acting and I hate the plot. It makes me so frustrated. I don't understand why there isn't a movie that just tells the plot through dance," Botnick says to her sister.
"Well, then do it," her sister replies.
Stephanie Wallach, assistant vice provost for undergraduate education, loves these moments. She has an entire system in place, in fact, for these very ideas. Her office offers grants and fellowships to keep CMU undergraduates moving forward in their research and bringing their ideas to life—allowing them to showcase their original work alongside many of their brightest and most creative peers at
Meeting of the Minds
, a university-wide research symposium.
This year's May 6 finale marked the 20th anniversary of Meeting of the Minds, which has mushroomed from its initial 157 presenters in 1995 to more than 450 participants.
The English Department was well-represented at the event with projects ranging from "Translucently, the Orange Sleeps Again" to "CMU Freshmen Meal Plan Satisfaction."
"The breadth and quality of student work from Dietrich College continues to astonish me every year," said Tim Haggerty, director of the
Humanities Scholars Program
who oversees judging for the Dietrich College Meeting of the Mind award categories. "Our students make discoveries and connections in their undergraduate careers and then have the opportunity to apply their insights in their own creative work, humanistic inquiry, or analysis in the social sciences.  Meeting of the Minds just exemplifies the university at its best."
2015 English Department Award Winners
Dietrich Humanities Award
Laura Berry (Creative Writing)
"Translucently, the Orange Sleeps Again"
Braden Kelner (Professional Writing)
"What Keeps Us Going: An Exploration of Experiences at the East End Cooperative Ministry"
Jasmine Xie (English)
"Developing and Deconstructing Gender: Nonbinary Individuals and Their Search for Identity"
Statistics Competition
Poster Presentations:
Second Prize:                
Elizabeth Chang (Statistics, Technical Writing and Communication), Izaia Haynes (Statistics), Elissa Maercklein (Business Administration, Statistics), Henry Nealse (Dietrich College Interdisciplinary, Business Administration), Tias Sen (Statistics)
"CMU Freshmen Meal Plan Satisfaction"
Related Links
14 English Department Majors Presented at CMU Research Symposium
Meeting of the Minds
Carnegie Mellon Today Story on 20th Anniversary
_____
By:
Jennie Dorris,
Shilo Rea
, and
Amanda King
Photo: Abby Botnick, BHA major with a concentration in professional writing, presented her dance narrative film "Still Burning" at this year's Meeting of the Minds.