March 23, 2015
Two MAPW Alumni Win Competitive Technical Writing Awards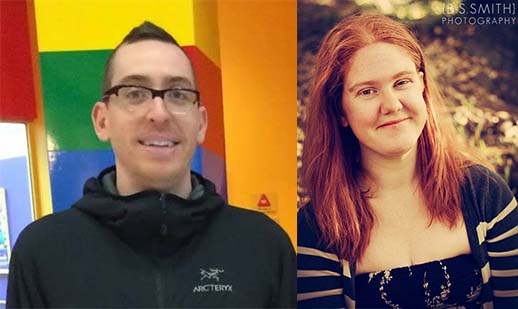 Graduate professional writing alumni, John Geyer and Samantha Reynard, recently won Merit Awards in the Society for Technical Communication (STC) Touchstone Competition for documentation they created while working at Salesforce, a global cloud computing company known for being the global leader in Customer Relationship Management.
The STC is the professional society for technical writers. Their Touchstone Competition is the only technical documentation competition in the region.
Out of 30 entries that were submitted, 12 awards were given out. Geyer (MAPW, '14) and Reynard (MAPW, '12) won a Merit Award for their work on the Cloud Flow Designer Workbook, which teaches Salesforce administrators how to use the Cloud Flow Designer (a declarative programming tool for automating business processes). Reynard is also Geyer's mentor. 
Reynard won a second Merit Award for her work on the Salesforce1 Mobile App Developer Guide, which shows users how they can optimize existing features for the Salesforce1 mobile platform. It also walks users through the process of how to enhance an existing organization to make it mobile-ready and mobile-friendly.
"Sam's win speaks to her great writing skills, her great skill at working with other writers, and her push for innovation," said Mysti Berri, principle technical writer at Salesforce. "Both of the products that she won prizes for are difficult, complex products – and I've never seen a writer learn the job so fast."
Geyer and Reynard both landed technical writing positions at Salesforce headquarters in San Francisco, Calif. after interning there during a summer semester.
Geyer, a technical writer, said the MAPW program's innovative course offerings helped him to succeed.
"MAPW students learn the latest in user-centered language and design principles," said Geyer. "This helped me become a contributing member of my team starting on day one."
Reynard said her MAPW Style course, taught by professor of English and linguistics, Barbara Johnstone, made a significant impact on her career.
"That class has been invaluable since the first day I took it," said Reynard, a senior technical writer at Salesforce. "The principles I learned are never far from my mind. In addition, Jennifer Boyce-Ciroli's class on Software Documentation prepared me very well for the technical documentation industry."
Learn more about the MAPW program here.
Salesforce technical writers and MAPW graduates, John Geyer and Samantha Reynard, pictured above, recently won Merit Awards in the Society for Technical Communication (STC) Touchstone Competition.