February 06, 2015
Undergraduate English Major Gains Experience in Washington D.C. and Italy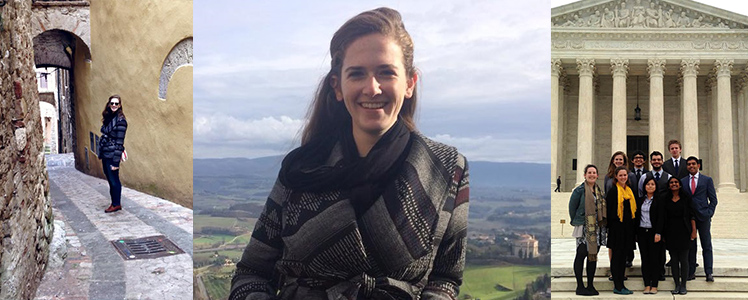 You won't find English major, Mairéad Pettit, studying in her usual Squirrel Hill dorm room this semester. Instead, she's studying abroad in Rome, Italy.

Pettit, a professional writing major in her junior year, is taking four classes in Italy, all related to its culture—learning the language, the history of Roman art, contemporary Roman art, and classical mythology.

Pettit hopes to learn how to communicate between different cultures and gain an understanding of people with different viewpoints.

"Study abroad has always been a part of my plan for college because I've always had a desire to be somewhere else and see the world," said Pettit

Pettit's desire to travel and learn also brought her to Washington D.C. in the fall of 2014 where she attended Carnegie Mellon University's Washington Semester Program. The program gives undergraduate students the opportunity to live, work and study in the nation's capital, coming into direct contact with political, business, and community leaders and learning about the most pressing policy issues.

Pettit interned in the Corporate and Foundation Relations section of Development at the Kennedy Center for the Performing Arts three days out of the week while participating in CMU Policy and Internship Seminars and taking classes on Theater and Media in Washington.

"I figured out how to apply my own personal skills in a professional setting that I believed in," said Pettit noting that her only work experience prior to the position was as an office assistant on campus. "I learned how it feels to be passionate about the work you're doing."

Before her semester in D.C., Pettit was lost as to what to do after graduation. As many English majors, she knew she was a good writer, but wasn't sure how to merge that skill set with any of her interests, like theater and the arts. But, she now has a plan.

"I'm really looking into arts management, and specifically, development for arts organizations as a career," said Pettit. "I'm still exploring fundraising in general as a possibility, but I really enjoyed doing it for an organization that I believed in and personally supported the mission of."

Pettit has plans to intern again this summer, but at a smaller arts organization.

"Being away from campus is hard, but I would highly recommend either of these programs to students who want to add some amazing world experiences to their time at CMU," said Pettit.
Header Photo: From left, Pettit in Italy and her with Washington Semester interns in D.C.