March 27, 2015
Historian, Lauren Benton, Lectures on Early Modern International Law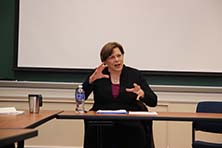 On Monday evening, award-winning historian of world history, Lauren Benton, delivered a lecture entitled, "Before International Law: Protection and Early Modern Global Legalities" in Carnegie Mellon University's Baker Hall.
Benton is the author or editor of six books including 2013's "Legal Pluralism and Empires, 1500-1850"and 2010's "A Search for Sovereignty: Law and Geography in European Empires, 1400-1900."
Protection, one of several broad rubrics of law that organized the cross-cultural and cross-polity relations of the early modern world before international law existed, was a main topic of Benton's lecture.
She discussed how references to protection pervaded early modern treaties and were featured prominently in less formal agreements about alliances.
"Protection also conjured up a duty owed by a sovereign to his subjects," said Benton, who is currently the Dean of the Graduate School of Arts and Sciences, Silver Professor of History, and Affiliate Professor of Law at New York University. She was recently appointed to be the Dean of Arts and Sciences at Vanderbilt University. 
In the lecture, which was hosted by the English department's affiliated organization, the Pittsburgh Consortium of Medieval and Renaissance Studies (PCMRS), Benton considered the way protection functioned in both registers in the early modern world, drawing on examples from Atlantic and Indian Ocean encounters between imperial agents and a variety of local polities.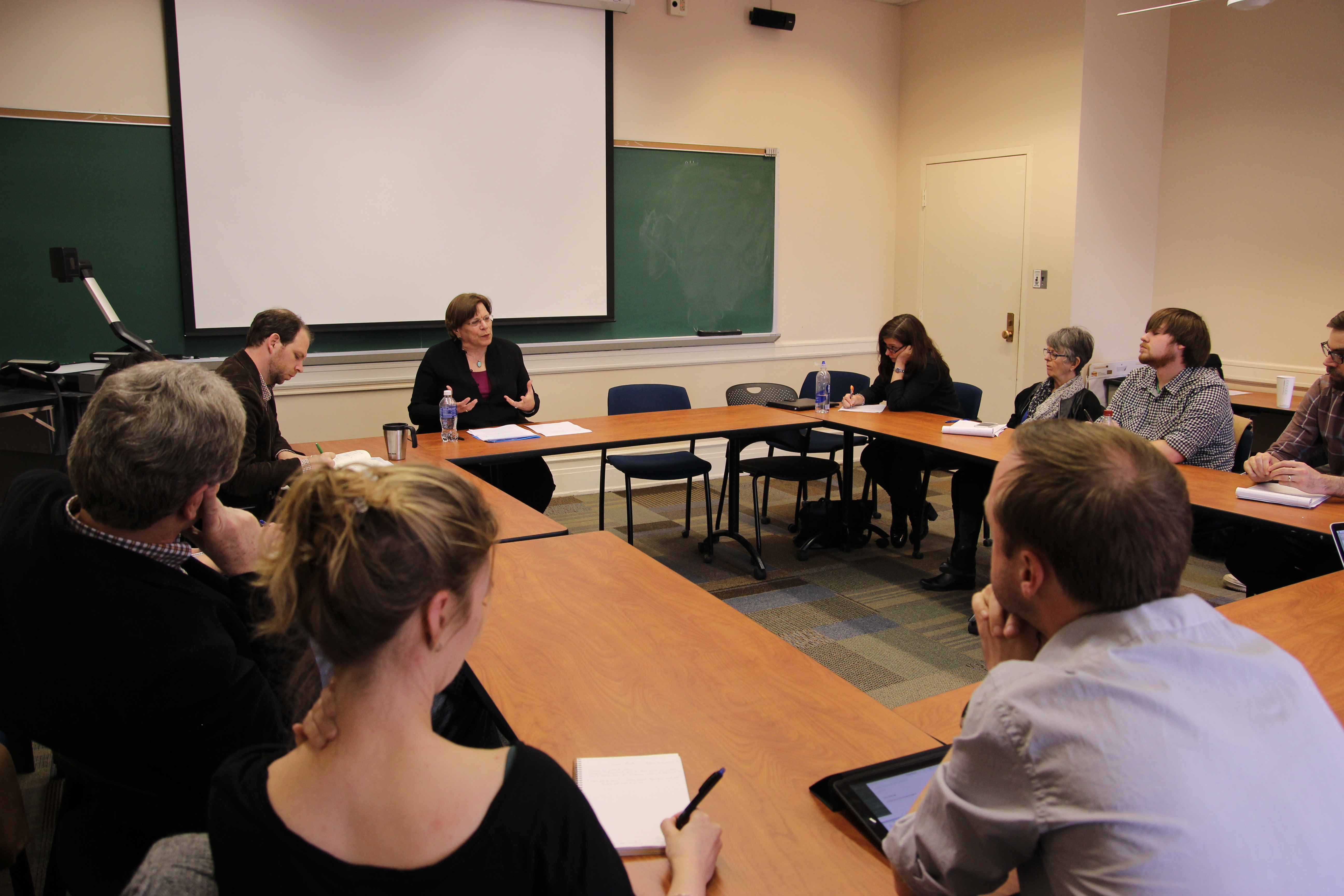 She also suggested that ideas and practices of protection shifted in ways that matter to understandings of world history and the history of international law.
"Students and faculty in the humanities regularly seek historical context as they confront questions of power, law, and globalization," said Chris Warren, PCMRS director and assistant professor of English. "Benton's work, which is at the forefront of the historical profession, offers fresh resources for the many people in Pittsburgh (and beyond) who want to know more about the role of law in world history."
Benton's talk drew a room made up of CMU Literary and Cultural Ph.D. students, English department faculty, and students and faculty from other Pittsburgh universities, such as the University of Pittsburgh and Duquesne University.
PCMRS "is a collection of scholars and students from the western Pennsylvania region interested in the arts, literature, history, philosophy and culture of the Middle Ages, Renaissance and Early Modern Period (to the end of the seventeenth century)." Its members are from many institutions including CMU and the University of Pittsburgh.
Benton's lecture was in conjunction with PCMRS' 2015 theme, "Medieval and Early Modern Globalisms."    
Benton's many publications include works on imperial sovereignty, legal pluralism in empires, maritime law, and the history of international law. Her main region of focus is the Atlantic world, but she also studies the global reach of European empires and has examined case studies from South Asia, Latin America, Africa, North America, and Australia.
For more information on PCMRS and future events.
 __
By: Amanda King