November 30, 2015
Community Think Tank Explores Campus Support for Independent Students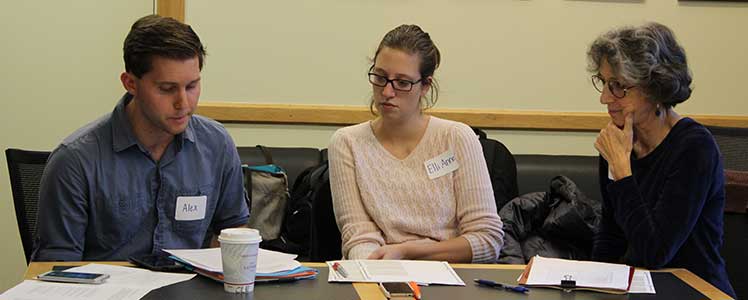 The first year of college is trying for many students. This semester's Carnegie Mellon Community Think Tank is helping first year independent students, those who are first generation, working and/or self-supporting, overcome common challenges, from fitting in to managing a part-time job.
The project titled, "Building Networks of Support for CMU's Independent Students," is focusing on what happens when these students need to create a network of support. And it is asking, "what works in effective mentoring?" with the goal of creating an informal Guide for Mentoring Independent Students.
Students conduct the project within the Department of English rhetoric seminar, 'Leadership, Dialogue and Change,' led by English Professor Linda Flower. Since 1999, the forums have brought cross-cultural and rival perspectives to issues from urban workplace policy to going public with a learning disability, to the hurdles facing first-generation or self-supporting students.
Flower recently answered questions about the Community Think Tank.
Why did you choose to examine networks of support for CMU's independent students for the Fall 2015 Community Think Tank?

We had done two previous projects on independent students. There had been some progress, but I wanted to get closer to actionable ideas. The previous findings showed that building a network of support—not just social connections, but a network that helps student anticipate and think through shared problems—could be very useful. 

How did this semester's Community Think Tank get started?
To our great good fortune, Dietrich College undergraduate advisors, including Paige Houser from the Statistics Department, Jen Loughran from the English Department, Gina Mattuci from the Academic Advisory Center and the Psychology Department's Emilie O'Leary started the Dietrich College Peer Mentoring Program. This opened a door for us to collaborate with them on creating a Guide for Mentoring Independent Students.
And, then our discussions with Shernell Smith, assistant director of The Office of the Dean of Student Affairs and Diana Marculescu, Electrical and Computer Engineering's associate department head for academic affairs, got us thinking about how this guide might be useful for other groups on campus.

How many people are involved in the Community Think Tank?
The network we are creating for this semester's project keeps growing. The research done by our 12 students have directly involved some 40 people in critical incident interviews and round table discussions, in addition to support from many others across campus.
Can you describe the steps the Community Think Tank took to produce their findings?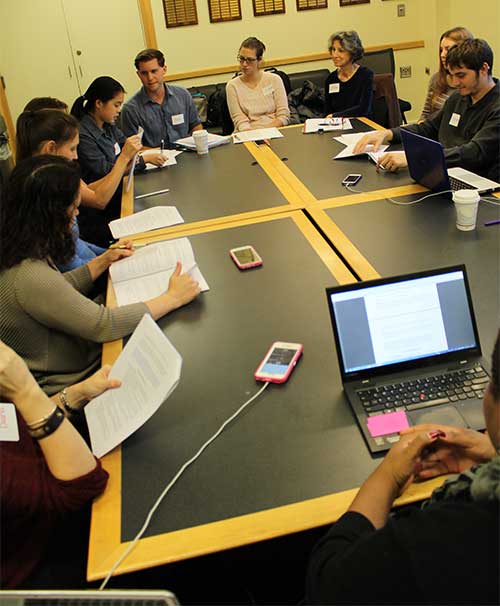 The research began with critical incident interviews, which let us frame key problems and build a Briefing Book that is then used to focus the Round Table discussions, ending normally with the published Findings. But with this Community Think Tank, the next step is supporting a live dialogue.  We found that people often associate "building networks" with joining social groups and becoming friends on social media. And, "mentoring" with being the older, wiser advice-giver.
We, on the other hand, want to help peer mentors (who won't have all the answers, especially for independent students) and the students they are mentoring to work as collaborative, problem-solving partners, focused on decisions students face (or may need to anticipate) and options. 
We are imagining, for example, an interactive set of Decision Dialogues in which the mentoring pair is drawn into a problem scenario based on the real experiences of students, drawn from our critical incident interviews and round table discussions. Both students are asked to explore issues ranging from feeling he/she doesn't fit in, to navigating financial aid, to managing a second chance as a self-advocate.
The guide will challenge the partners to raise alternative, "rival" hypotheses and figure out different possible options—and only then look to see what other students and counselors have had to say (and possibly let us gather more data).
By the end of this semester, will you have published the findings from the Think Tank?

We will have done the research, analysis and basic design of the Guide for Mentoring Independent Students by the end of the semester. Then in spring 2016, Suguru Ishizaki's English department seminar, 'Advanced Document & Information Design,' will take it on and figure out how to make it a really useful Guide. Now if I could only find someone interested in building online tools…
What's your favorite part about teaching 'Leadership, Dialogue and Change'?
The students in this class are so engaged. We start out reading about different approaches to leadership from researchers, activists and philosophers, such as Harvard's Ronald Heifetz, Saul Alinsky, Martin Luther King Jr. and Cornel West. But, the challenge that motivates this group is building a working theory that connects intellectual understanding to the complexities of acting on a real problem.
Another payoff is seeing students take this method of intercultural and cross-hierarchy collaborative problem solving into their own work lives, which makes teaching this class especially rewarding. It also puts me in a world of ongoing inquiry. When you work on these problems, you don't know the answers.
By now, the Community Think Tank process I teach is pretty well developed, but the problems we are working on are always alive. They draw you into facing other people's experience—and engaging in something that you feel is really worth doing
___
Learn more about Flower's research.
If you're an independent student interested in helping us test the Guide for Mentoring Independent Students, please contact Linda Flower.
By Amanda King
Main Photo: From left to right, graduate students Alex Helberg and Elli Anne Karras along with English Professor Linda Flower conduct a Community Think Tank Round Table Discussion.
Share: