April 08, 2015
Ph.D. Candidate in Rhetoric Was Among Featured Speakers at CMU's Integrated Intelligence Event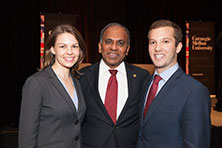 Carolyn Commer, a Carnegie Mellon Ph.D. candidate in Rhetoric was a featured speaker at the university's Integrated Intelligence: San Francisco and Beyond event in San Francisco, Calif. in February.
The evening celebrated how Carnegie Mellon teaches, creates, and impacts the world. Hosted by CMU President Subra Suresh, the CMU Board of Trustees and deans, the event brought together Silicon Valley business and industry thought leaders.
Featured speakers discussed CMU's commitment to Integrated Intelligence – to design and integrate smart, seamless technologies that assist people with solving major societal issues in order to benefit people everywhere.
In Commer's speech, she makes the case that Carnegie Mellon's steadfast commitment to solving practical problems doesn't just reside in the School of Computer Science and the College of Engineering, but extends deep into the Humanities as well.
"My speech was dedicated to all the faculty, students, and staff in the English Department," said Commer who is the Graduate Student Assembly (GSA) President.
Listen to Commer's speech here, which starts at 4:50.
All proceeds from the event benefitted CMU's undergraduate scholarships and graduate fellowships.
___
By: Amanda King
Pictured above: Carolyn Commer; Ph.D. candidate in Rhetoric, Subra Suresh; Carnegie Mellon President, and Ian Glasner; Student Body President stand together at Carnegie Mellon's Integrated Intelligence: San Francisco and Beyond event.