July 08, 2015
News Maker: Alumna Brittany McCandless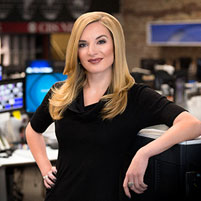 It's safe to say that Brittany McCandless (PW, CW'08) knew she wanted to be a journalist at a young age. When most kids were playing house or school, McCandless and her brother would take anything that they could get their hands on — such as a TV manual or a book — and turn them into scripts to play news anchors.
To make her dream a reality, McCandless attended Carnegie Mellon University to major in the Department of English's Professional Writing Program. She was selected for the Humanities Scholars Program (HSP), excelled in her courses and added a second major of Creative Writing.
After stints at CNN and ABC's Good Morning America, McCandless is making her mark as an associate producer for CBS This Morning.
"You know you've made it in the news when you work during the day and get to sleep at night," McCandless said.
Transitioning from a demanding college course load to the fast-paced world of 24/7 news was not easy. While at CMU, McCandless realized she didn't feel like she was succeeding unless she was frantically busy. She held various internships, served as the news editor for the Tartan and as a head orientation counselor. She also participated in the senior gift committee, Circle K and Mosaic. In 2007, she wrote a piece for the Pittsburgh Post-Gazette — where she had just interned — called "Too Busy To Notice I'm Too Busy."
Now, McCandless sees things differently and returned to CMU to discuss the idea "Does Busy Mean Better?"
"I moved to New York City and found calm," she said. "I have finally found a sense of balance that I didn't have in college."
She credits her job at CBS as helping her find equilibrium because prioritizing time and tasks are essential to producing a news segment.
"It's really exciting to watch national and world news happen and to be a person who is conveying it to other people," McCandless said. "But, it is challenging and extremely important to make sure I'm always looking at a story from a broad perspective, so that it is told in the most accurate and equitable way."
McCandless said she is able to do this because of her education.
"[Former Dietrich College Dean] John Lehoczky told me to broaden my mind and not just focus on my major. HSP really helped with that. At CMU, I was exposed to brilliant people and got a taste of engineering, robotics, biology and the arts. Even in Dietrich College, there is broad exposure with things like psychology and international relations," she said.
McCandless named a few courses that have stayed with her, including Andreea Deciu Ritivoi's HSP class on collective memory and Scott Sandage's history course on developing American culture. She frequently refers to what she learned in Laurie Zittrain Eisenberg's Arab-Israeli conflict course because of the ongoing tension.
"Having a firm understanding of the region's history and geopolitical nuance makes it easier to craft a segment about the most salient elements of a news story," she said.
Ritivoi, head of the Department of English, advised McCandless on her Senior Honors Program thesis, and said that Collective Memory and Political Rhetoric is a seminar designed to get students to examine the arguments and rhetorical moves that create our general sense of the past, beyond or in addition to what official histories say.
"Brittany was an outstanding student in a very impressive cohort. She had a knack for seeing how a particular narrative of the past — whether it was about the Vichy regime in France or the Vietnam War in America — informed policies and collective actions, shaping the kinds of questions societies are willing or not willing to ask about themselves," Ritivoi said. "She was deeply analytic, intuitive, historically informed and very ambitious in the kinds of projects she wanted to take on in her assignments."
Ritivoi added, "When she told me she wanted to do her honors thesis on the topic of the course, I was not surprised. She not only had the knowledge and sophistication for it; she also had the passion. Some day, she will turn her thesis into a book. Or into a documentary. Whichever it is, it will a great one."
McCandless also doesn't think she would be a successful journalist without adding international relations as a minor. Kiron Skinner, who McCandless says predicted that future national security threats would not be nations versus nations but involve extremist groups, is not surprised with her former student's achievements.
"Brittany was a rare student in the sense that she came to the study of international relations toward the end of her college career but quickly grasped the central tenets of the discipline," said Skinner, director of the Dietrich College's new Institute for Politics and Strategy. "Brittany demonstrated an insatiable desire for systematic knowledge about how the world works. That desire combined with her excellent writing skills account for why I believe my former student is on her way to becoming one of our nation's leading journalists."
Briefly visiting campus in the spring made McCandless realize how much she misses CMU's people, energy and excitement. She left simple advice for current students as they shape their futures.
"Busy is not a badge of honor," she said. "Do not feel like you have to be crazy and overbooked to succeed. When you're overtasked, you can't be your best self."
_____
By Shilo Rea
Share: