April 03, 2015
New Art, Conflict and Technology Course Travels to Northern Ireland
For most college students, spring break is a time for relaxation maybe on a beach or even catching up on projects that are due before the semester's end. But this year 16 Carnegie Mellon University students set out to travel to Belfast, Northern Ireland to meet artists and legislators they had studied in a new interdisciplinary course, Art, Conflict and Technology in Northern Ireland, taught by the Department of English's Jennifer Keating-Miller, the School of Art's John Carson and the Robotics Institute's Illah Nourbakhsh.
Throughout the course students learned about the history of social strife in Northern Ireland from the 1960s to the present day, also known as The Troubles. And they learned about the efforts to reconcile differences in the contemporary period.
"The interdisciplinary nature of the course immediately drew me to it," said Laurnie Wilson, a junior double majoring in creative writing and history. "We have so many strong academic programs on this campus, yet it's rare to have the chance to combine them in such an interesting and tangible way. From the moment I saw the course description I knew that this class would create an intellectual environment unlike any other and I knew I had to be a part of that."
Students had the opportunity to meet the people working to reconcile differences in Northern Ireland, such as Laurence McKeown. He was in the Irish Republican Army and was a hunger striker, now turned writer. Their meeting was the highlight of student Kaytie Nielsen's trip.
"I am currently working on a play that is set in 1970s Belfast that deals with aspects of The Troubles and I was able to connect with Laurence and ask if he would help me with this project, which he generously agreed to," said Nielsen, a bachelor of humanities and arts major with concentrations in creative writing and directing.
Along with meeting artists, playwrights, and community activists they studied in class students had a full itinerary planned including meetings at the Stormont Parliament Buildings with three legislators who were trying to reconcile a peace agreement. They also visited American-Ulster Folk Park (the birthplace of Thomas Mellon) and enjoyed two arts festivals including the Ulster Festival of Art & Design.
"The goal of the trip was to have students gain access to writers and artists they were studying," said Keating-Miller who co-teaches the class's seminars alongside Carson. "We thought that could be a compelling opportunity to ask questions."
Students also met citizens who were directly affected by the conflict in Northern Ireland.
"I met people who had lived through an extended conflict and were now trying to rebuild their lives," said Chris Skaggs, a senior international relations and politics major. "I got to see the emotional, human side of what we study."
"The students also walked through neighborhoods they were studying," said Keating-Miller. "It was a great way to eng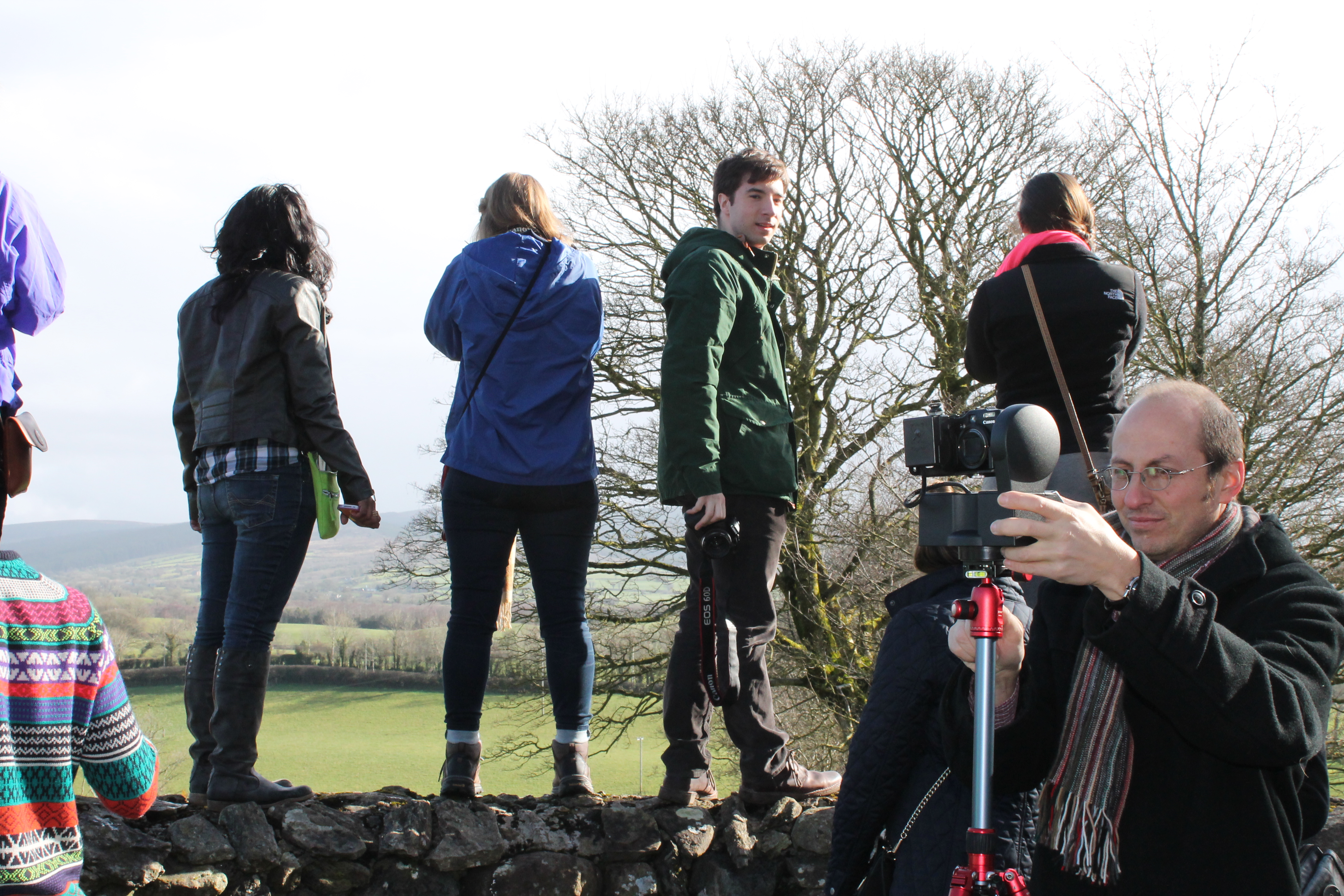 age in questions that are relevant to society."
Students listened to talks from academics at Ulster University and Queens University, which included a roundtable discussion with current Ph.D. students who were undertaking work on conflict or peace and reconciliation.
The course, which is open to all majors, also considers the influence of advancing technology on how narratives are shared within a community and worldwide. They analyzed literary and visual art from the chosen time period and while in Belfast, they created mixed media projects using Gigapan (huge panorama images with billions of pixels) and Hear Me systems from Carnegie Mellon's CREATE Lab in the Robotics Institute.
Students learned how to use CREATE Lab's Gigapan and Hear Me systems as platforms for exploring the content presented in class and for the development of final projects.
Using software, Gigapan images are formed by stitching together smaller images. Nielsen produced a short video that uses the process of stitching the images as a metaphor for their experience in Belfast as the video attempts to stitch all of the competing narratives during their trip together into one cohesive video of Belfast.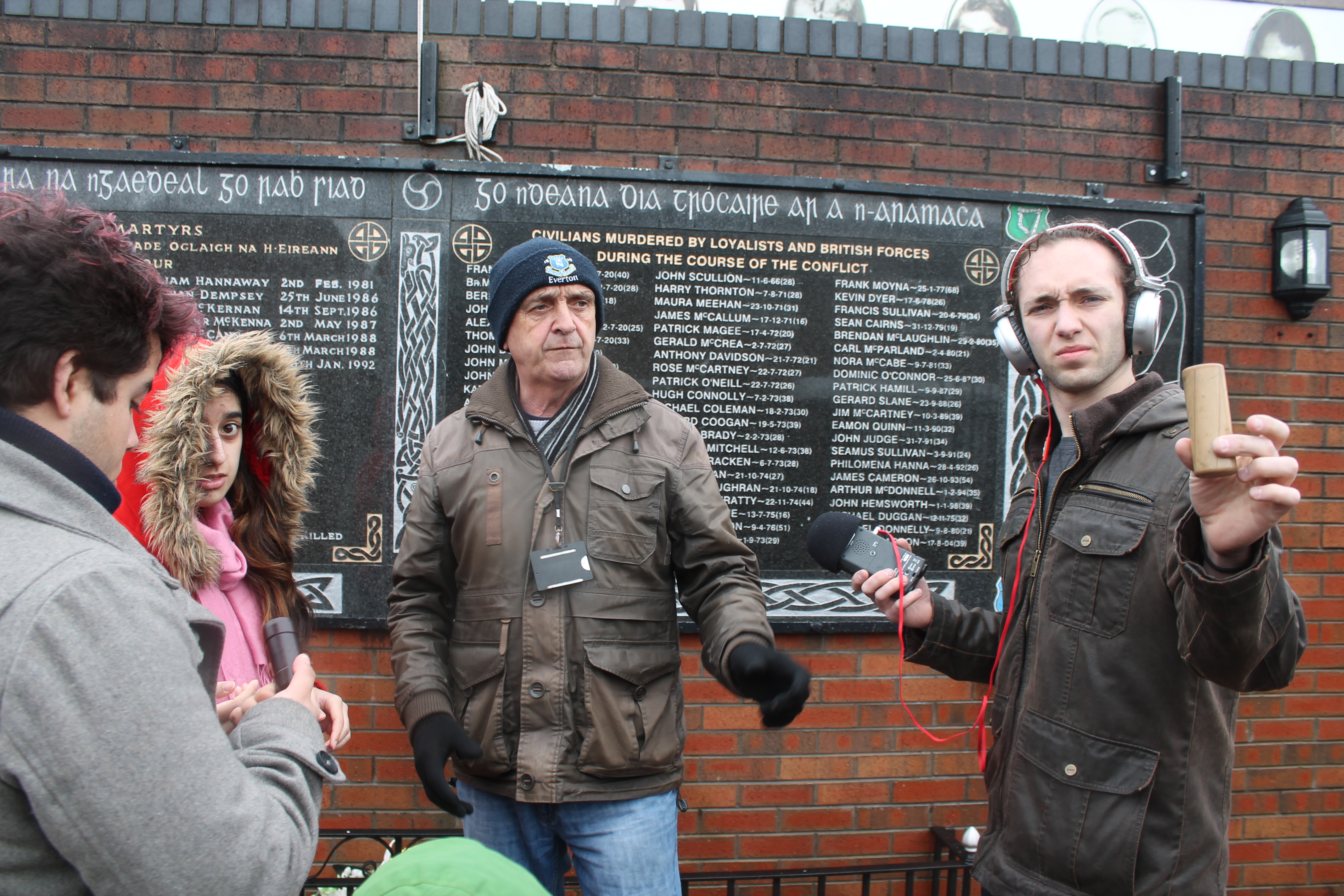 Students were assigned a total of three reflection projects while in Belfast. One reflection was required to be written, one needed to be a mixed media project, and the third project needed to be recorded using the Hear Me systems or zooms.
Several students used these digital recording devices to record speakers in their Black Taxi tours of the city in which drivers gave personal accounts of The Troubles while giving a tour of Belfast. The recordings can then be edited and put onto kiosks and/or put inside a tin can with an audio playback device and a speaker. Students who want to share their work with the public can do so with CREATE Lab's kiosks.
"The point behind the recordings is for students to consider the circulation of narrative and within the context of Northern Ireland, the manner in which contested narratives have precipitated violence and emergence from violence," said Keating-Miller. "As students use the technology themselves to record their own narratives and reflections they not only learn how technology can serve as a tool in circulation of these stories, but can also consider the influence that the technological medium has on how they choose to tell their story and how they might like it to be shared with others."
Art, Conflict and Technology will again be offered in Spring 2016.
View Gigapan images from the class's trip.
Watch a video produced by students Kaytie Nielsen and Satvika Neti.
___
By: Amanda King
Main photo: From left, Kaytie Nielsen, a bachelor of humanities and arts major with concentrations in creative writing and directing, shoots video to use for her final project. The class poses for a photo at Ulster American Folk Park, the birthplace of Thomas Mellon.
Story photos: From left, Jake Klingensmith, a computer science and architecture major, holds a zoom or digital recoding device during their Black Taxi Tour.The Robotics Institute's Illah Nourbakhsh sets up a gigapan camera mount at Ulster American Folk Park.