February 06, 2015
One Screenwriting Course, Two Professors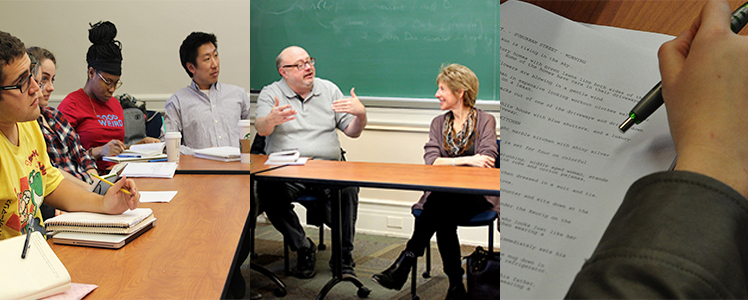 This semester, English Department's
Professor Jane Bernstein
and the Entertainment Technology Center's Assistant Teaching
Professor, Chris Klug
, teamed up for the first time to teach the interdisciplinary course, Advanced Screenwriting.
The workshop is designed for undergraduate students who are interested in either TV or film screenwriting.
"I think it's really great for students to expand their range of forms they can work in," said Bernstein who teaches creative writing. "The fact that an undergraduate student can now learn TV writing is a really a terrific opportunity."
In TV screenwriting, dialogue is centrally important. The realities of production dictate it – a one-hour episode is shot in 10 days within a strict budget and location constraints. And, Klug explained that in the serialized, week-by-week nature of TV, the audience develops a different, more intimate relationship between characters in their favorite shows.
"They become akin to members of the family and you spend 22 hours a year with those people in your family room," said Klug who has hired over 30 writers at various game companies. "Thus, you see them not so much as stars in a movie, but friends."
In film screenwriting– or as Bernstein calls it, image-driven screenwriting, dialogue is not the primary story telling mode.
Students with interests in different forms can benefit from this class by having the opportunity to listen and learn from each other. While teaching two different forms of screenwriting in one class may sound like a difficult task, it seems as if Bernstein and Klug have already mastered it.

The duo divided the class of 21 students into two groups based on the student's chosen form. Each professor then has mini lectures and discussions, mostly focused on a film or TV pilot that was screened the prior Sunday evening.
And, while the two screenwriting forms are different, writers in each medium are trying to achieve the same technique: great storytelling.
"A lot of what we say in discussion crosses over, in terms of how to build a strong story with great characters – a story that has momentum and has turns that make it interesting," said Bernstein. "We got response from both sides of the class."
Students who chose TV writing will be expected to turn in a final project: a speculative script (a script that hasn't been commissioned) for a one-hour drama that has been broadcasted in the U.S. in the last 30 years. Student film screenwriters will be expected to produce an original 60-minute screenplay.
"Students benefit tremendously from the cross-department collaboration between Professors Bernstein and Klug," said Chris Neuwirth, English department head and professor. "Providing students with opportunities for this kind of interdisciplinary experience is a hallmark of a Carnegie Mellon education."
Klug's approach to writing for games over the span of his career (he designed the James Bond 007 role playing game and went on to design many more award-winning titles) is the reasoning behind the workshop.
"I noticed that the writers who had the greatest chance to make a positive difference when working on stories for games were writers who had worked in TV," said Klug. "So, I created a course in which I taught game writing through the lens of writing a speculative script for an hour-long drama."
Creative writing majors lined up to take that class. Bernstein and Klug eventually met and Bernstein, who co-wrote the screenplay for the Warner Brothers movie, "Seven Minutes in Heaven," pitched him the idea of combining their two writing classes into one Advanced Screenwriting Workshop.
Bernstein hopes to co-teach the course again in the future.
"I'm psyched," said Bernstein. "I find there's a good kind of energy you can get out of co-teaching a course with someone who isn't your clone – two people with two points of view."