March 18, 2015
Pulitzer Prize Winner To Speak At Adamson Writing Awards
Tracy K. Smith
is no stranger to award ceremonies.
Smith won the 2012 Pulitzer Prize for her book of poetry, "Life on Mars." In 2014, she was awarded the Academy of American Poets Fellowship, which is given to one poet annually to recognize distinguished poetic achievement.
Smith, a creative writing professor at Princeton University who has authored two other award-winning poetry books, "Duende" and "The Body's Question," will be the keynote speaker at Carnegie Mellon University's 2015 Adamson Student Writing Awards.
Sponsored by the
Department of English
, the annual writing awards urge undergraduate students to pursue excellence in writing in the categories of non-fiction, fiction, poetry, screenwriting and plays. Free and open to the public, the awards will take place on Thursday, April 30 at 7 p.m. in the Baker Hall's Giant Eagle Auditorium.
"Recognition in creative writing is rare, and this is an opportunity for students to get some exposure," said Sharon Dilworth, associate professor of English and director of the Creative Writing Program. "The Adamson Student Writing Awards also encourage students to produce excellent work on deadline, which is invaluable for their writing careers."
Smith's latest work is a memoir, titled "Ordinary Light," which explores becoming a writer and the meaning of home against a complex backdrop of race, faith and the unbreakable bond between a mother and daughter.
"I wanted to look at my family in ways that I hadn't done before in my poems," said Smith. "I know there are certain kinds of discoveries that I'm comfortable making in a poem and I wanted to do something to force me to discover different kinds of things and push for different kinds of questions."
Smith lost both of her parents, her mother to cancer at a young age. In her memoir, she attempts to recreate their characters.
"What motivated me was the fact that I have young children now and they will never know my parents," said Smith noting she has a five-year old and an identical set of twins who are 20 months old. "I wanted to recreate that family story for them."
"I have been following Tracy's poetry for years and have always greatly admired it," said Jim Daniels, the Thomas Stockholm Baker University Professor of English. "I met Tracy a number of years ago, and she struck me as a warm, caring, down-to-earth person who our students could relate to."
Before her reading, creative writing students and faculty will have the opportunity to interact with Smith. Students are currently reading Smith's work in class.  
Smith's advice to aspiring writers includes making sure they understand that even if it takes a writer several years to publish their first book, it is not a bad thing.
"Writers have a private space during this time where they can get at questions that motivate them before this big thing becomes public – you only get it once," said Smith.
The awards have become a staple in the English Department.
Daniels believes the event is so much more than celebrating writing because it also teaches young writers "how to lose graciously and accept rejection as part of a writer's life," he said.
Dilworth added, "We run it as a contest so the students gain experience in entering contests, in winning them and in losing them. It's the writing that matters."
Last year, senior creative and professional writing major, Elana Goldberg, took home a first place award in the nonfiction category and received the Alan Topol award in fiction.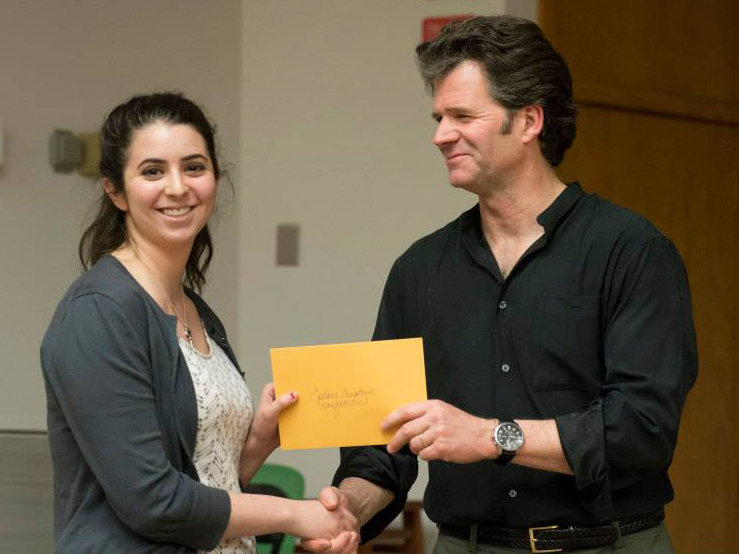 "One of my professors once described the Adamson Student Writing Awards as the Oscars for writing students," said Goldberg. "I love reading my peers' work and it's so exciting to see the pieces that have been critiqued in workshop win different awards."
Students can submit their work until March 26. View the
2015 Adamson Student Writing Awards Guidelines
.
Learn more about the awards.
___
By: Amanda King
Right Photo: Senior creative and professional writing major, Elana Goldberg, accepts her first place award in the nonfiction category at last year's Adamson Student Writing Awards from renowned author and keynote speaker, Andre Dubus III.