April 17, 2013
Julie Bowman Wins 2013 Graduate Student Teaching Award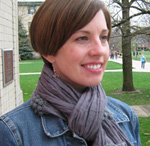 A Ph.D. candidate in Literary and Cultural Studies in the Department of English, Julie Bowman began teaching at Carnegie Mellon as a first-year Ph.D. student. In addition to teaching the university's key service course, 76-101, Julie has twice served as a teaching assistant for the English department's Shakespeare course as well as designed and taught her own 200-level courses in Renaissance literature. Committed to education in the humanities, Julie also served as a teaching assistant for the College of Fine Arts, leading recitations for the Critical Histories of the Arts course for several semesters. Previous degrees include a B.A. in Humanities from Brigham Young University and an M.A. in English from Rhode Island College.
This academic year, Julie collaborated with her advisor, Dr. Peggy Ann Knapp, in teaching two Shakespeare courses: Comedies and Romances in the fall of 2012, and Histories and Tragedies in the spring of 2013.   Julie gave approximately four of the Monday/Wednesday lectures each semester, conducted a discussion section with half the students every Friday, and advised and assessed her students' papers.  In the past, she has also been a teaching assistant for Dr. Charles Rosenblum.
"Julie is an outstanding teacher because she clearly has a thorough knowledge of Shakespeare's plays and Elizabethan/Jacobean culture," says Dr. Knapp, who nominated Julie for the award. "Her classroom strategy is all about student learning-her presentation of new material (historical background, critical positions, and the like) is well organized and polished, including a visual map of the lecture/discussion to come, but her approach to the interpretation of the plays forces the students to think through their positions for themselves. Shakespeare's plays are so capacious that new ideas (for all of us) can come into focus under the right conditions. Julie provides the right conditions. She treats their comments with interest, but asks for the grounds for their responses. Her patience gives them a chance to look closely at the language of the plays and formulate some thoughts. Many students speak of her willingness to guide them through several drafts of their papers."
Bowman will be recognized for her contribution to Carnegie Mellon University's academic community at a Celebration of Education event on April 30.  She was formally presented with the award at a ceremony on April 4.