May 01, 2012
Caroline Kessler Selected to Attend the Bucknell Seminar for Young Poets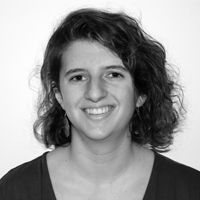 The English Department is excited to announce that our very own Caroline Kessler has been chosen to attend the twenty-seventh annual Bucknell University Seminar for Young Poets.  Held for three weeks in June, the Seminar provides an extended opportunity for undergraduate poets to write and to be guided by established poets. Staff and visiting poets conduct writing workshops and offer lecture/discussions, present readings of their own work, and are available for individual conferences.   
"Since this was my absolute chance to take part in a program like this I am more than thrilled to have been accepted. It will be a great opportunity to re-focus on my writing after several months way from the classroom, " says Kessler.  "My internship will end in early June, I'll attend the Seminar, and then I hope to continue writing for a cause I care about."
In the past, such poets as Linda Gregg, Terrance Hayes, Dana Levin, Mary Ruefle, Gerald Stern, David St. John, Arthur Sze, and Michael Waters have served as visiting poets. Numerous readings provide the participants with the opportunity to hear and be heard by their peers. Applicants compete for ten places in the Seminar, all of which come with fellowships. Fellowships include tuition, housing in campus apartments, and meals. Accepted students are responsible only for their travel to Bucknell and a modest library deposit. A limited number of travel scholarships are available on the basis of need. The 2012 staff will include Seminar Director G.C. Waldrep, Associate Director Deirdre O'Connor, and Stadler Fellows Jamaal May and Diana Park. Visiting poets Rick Barot and Brigit Pegeen Kelly will complete the lineup.
Caroline Kessler graduated from the English Department here at Carnegie Mellon in December and was chosen to speak at the undergraduate commencement in May along with actor and fellow CMU alum, Patrick Wilson.  She currently works as a Communications Intern at Net Impact, a San-Francisco based nonprofit.