April 17, 2012
Kate Hamilton Wins National Essay Award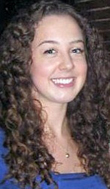 Kate Hamilton, a Ph.D. student in the Literary and Cultural Studies (LCS) program, has received the 2012 Catharine Macaulay Prize from the Women's Caucus of the American Society for Eighteenth-Century Studies (ASECS) for her essay "She 'came up Stairs into the World': Elizabeth Barry and Restoration Celebrity." The award is given annually for the best graduate student essay focusing on feminist or gender studies subjects in the context of the eighteenth-century.
"I am honored and thrilled to have received the 2012 Catharine Macaulay Prize," said Kate. "I have greatly enjoyed presenting at the national ASECS conferences in 2009 and 2011, and I have met many wonderful scholars and friends through this organization. The Women's Caucus in particular does a wonderful job of supporting and encouraging younger scholars."
Kate's field of study in the LCS program is eighteenth-century British literature with a focus on gender studies. After receiving her Ph.D., she plans to pursue a career in academia.
To learn more about the Catharine Macaulay Prize and other awards offered by the ASECS, visit http://asecs.press.jhu.edu/awards.html.