October 21, 2012
English Class Raises Awareness of Banned Books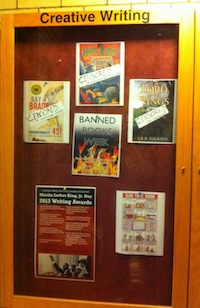 Every year since 1982, the American Library Association has sponsored a week dedicated to celebrating the freedom to read. "Banned Books Week" is designed to highlight the value of free and open information.
Students in English Professor Kathy M. Newman's Studies in Print Culture: Censored Texts course worked to create awareness during the 2012 campaign held from Sept. 30 through Oct. 6.
"Censored texts have been a topic of interest to me, but before taking this class, I never had a chance to really get involved in it," said Bonita Leung, a junior majoring in professional writing. "There are a lot of banned books for reasons that are surprising. Popular books like 'Harry Potter' and the 'Hunger Games' are banned books."
To get the word out about Banned Books Week at Carnegie Mellon, Leung and seven other students had a table in the University Center where they gave out free candy attached to short explanations of why a certain book was banned. They put posters up in the UC and academic buildings describing Banned Books Week, created a visual display providing information and awareness in the Hunt Library and decorated the bulletin board outside of the Gladys Schmitt Creative Writing Center (BH 260) with posters.
"We were able to create a greater awareness about censored books on campus," Leung said. "People were definitely surprised by which books were on the list and how many."
On what she learned working with her classmates to help make the CMU community more informed on the issue, Leung said, "It doesn't take that much effort to inform people about something that they don't know about. It was interesting to see how our small, individual efforts were able to help people become more aware of banned books."
Newman, who is teaching Censored Texts for the second time (the first time was in 2010), thinks it is important for her students to get involved with Banned Books Week.
"CMU students went to good high schools where they were expected to read widely," Newman said. "When they get to my class they are surprised to see how many of the books they read in high school were banned or challenged at other schools around the US. They are surprised, for example, to find out that some critics saw 'Catcher in the Rye' as obscene, and even as Communist. It is exciting to put these novels in a political context, and to think about how literature moves people—sometimes even to organize against literature itself."
Stay connected with CMU's Dietrich College of Humanities and Social Sciences on Twitter and Facebook.
Other sources of Carnegie Mellon news include the university news service website and the Carnegie Mellon Today magazine.
Contact
Shilo Rea
, Director of Public Relations at
shilo@cmu.edu
or (412) 268-6094.