April 10, 2012
New Book By the English Department's David Shumway Examines Filmmaker John Sayles and the Politics of American Cinema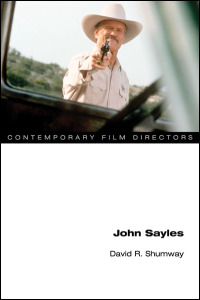 PITTSBURGH—
John Sayles
is the very model of the contemporary independent filmmaker. Sayles functions more independently than most directors because he raises the funds for his films himself. In the new book "
John Sayles
," Carnegie Mellon University's
David R. Shumway
profiles Sayles and how he has used his freedom to write and produce films with a distinctive personal style and clearly expressed political opinions.
"Like Classic Era directors such as Howard Hawks and Alfred Hitchcock, John Sayles is a great storyteller," said Shumway, professor of
English
within the
Dietrich College of Humanities and Social Sciences
and director of the
Humanities Center
. "But unlike their films, his also ask us to think critically about the world in which we live. He has been able to make such films because he has not had to depend on entertainment conglomerates to finance them, and thus has retained artistic control of his work. His films teach us about historical events we are unlikely to know much about-such as Baseball's Black Sox scandal, the Stone Mountain Coal War, or the Philipine-American War-but they also, like a good teacher, raise questions about assumptions viewers are likely hold before seeing them."
From "
The Return of the Secaucus Seven
" to "
Sunshine State
," Sayles' films have consistently conveyed progressive political positions on issues including race, gender, sexuality, class and disability. Shumway feels the defining characteristic of Sayles' cinema is realism, exploring his attention to narrative in critically acclaimed and popular films such as "
Matewan
," "
Eight Men Out
," "
Passion Fish
" and "
Lone Star
."
Shumway also provides details about the conditions surrounding the films' production, distribution and exhibition, which have affected the way the films have been understood and appreciated.
Lucy Fischer
, distinguished professor of English and film studies at the University of Pittsburgh and editor of "
American Cinema of the 1920s: Themes and Variations
," called the book "an insightful and thorough study of an important film director."
"Bringing to bear his broad knowledge of cinema, literature and popular culture, Shumway's study will appeal to fans of Sayles' work and others interested in the politics of American cinema," Fischer said.
Shumway will discuss "
Director John Sayles: Critical Realism and New Left Cinema
" on Monday, April 16 at 4:30 p.m. in Baker Hall's Giant Eagle Auditorium. Copies of the book will be on sale.
For more information about "John Sayles," which was published by the
University of Illinois Press
as a volume in the Contemporary Film Directors series, visit
http://www.amazon.com/John-Sayles-Contemporary-Film-Directors/dp/025207856X
.