April 19, 2012
Alum Ann Blakeslee Wins Award for Technical Communication Research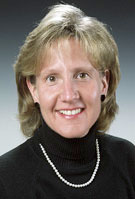 Ann Blakeslee has received the Ken Rainey Award for Excellence in Research in Technical Communication from the Society for Technical Communication (STC). This annual award honors STC members who have made significant contributions to technical communication practice and teaching through their research. The STC is the oldest and largest professional association for technical communicators. Its members are spread throughout every continent and industry in the world.
Dr. Blakeslee graduated from Carnegie Mellon with a Ph.D. in Rhetoric in 1992. She is now a professor of Written Communication in the Department of English Language & Literature at Eastern Michigan University (EMU). She also serves as the director of Writing Across the Curriculum and the University Writing Center at EMU.
In addition to the Ken Rainey Award, Blakeslee was honored with the Fellow Award from the Association of Teachers of Technical Writing in 2011. She is the only person who has ever won both awards. To have received them in consecutive years is truly an outstanding achievement. Congratulations, Dr. Blakeslee!